Considerations While Buying Rugby League Uniforms
Rugby is one of the many versions of football that people enjoy playing and those who are in the rugby league need to have the right kit for the game which includes rugby shorts, shirts and other general equipment like mouth guard, head protection and so on. There are a number things to considers when purchasing rugby league uniforms, especially the jerseys.
1. Impeccable Quality
When buying any kind of sport shirts, including rugby jerseys, the first thing to think about would be the quality. One needs to make sure that what they are purchasing not only looks and feel good while wearing it and playing, but the shirts should last when the players are throwing themselves on the rugby pitch. It is important to look for renowned rugby shirts manufacturers and suppliers who can guarantee to deliver quality at competitive prices so that even local level rugby leagues can afford it for their team.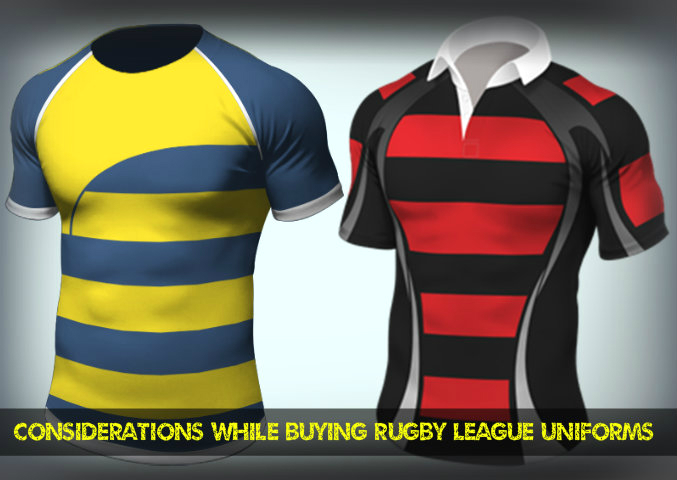 The rugby uniform carries the team's logo, name and number of the players. This helps the fans to be able to associate with a particular player. It can sometimes also carry the logo of the sponsoring brands. It is possible to customize the uniforms in order to achieve a unique look, create a separate entity for the team and make them stand out in the crowd. Poor quality shirts and shorts would not be able to garner the same attention and praises. Also, the team players would have a feel-good factor and can bring their A-game.
2. The Size Should be Right
The size is another important consideration when buying club shirts for rugby league. In order to move around the pitch freely and comfortably, it is vital to make sure that the rugby kit fits one perfectly. This is much more important for the wingers and the backs because they are required to be much more agile and require complete freedom of movement.
3. Should Not be Too Bulky
Do not buy a shirt that is unnecessarily too heavy. The players will not be able to concentrate on playing the sport if they have to constantly think about how heavy their shirt is.
4. Price
This is an important consideration because you wouldn't want to end p paying too much for something that you could have got for less. Purchasing from rugby uniforms wholesalers will definitely save you a fortune. You can order heaps for the members of your club at affordable rates.