Cricket Shirt Manufacturers Keeping up a Sporty Spirit for Your Team!
Cricket is one sport that can literally unite a whole nation, irrespective of the gender, demographics and other such factors. Being one of the most popular ports worldwide, cricket is the national sport of England. No more is cricket just a bat-and-ball game, it now involves emotions and high level expectations!
Cricket team wear is one thing that helps distinguish one team from the other. The more unique it is, the better. It represents unity, spirit and motto of the team. A team wear instantly connects team members on a different level and makes the think of the general good than individual benefit.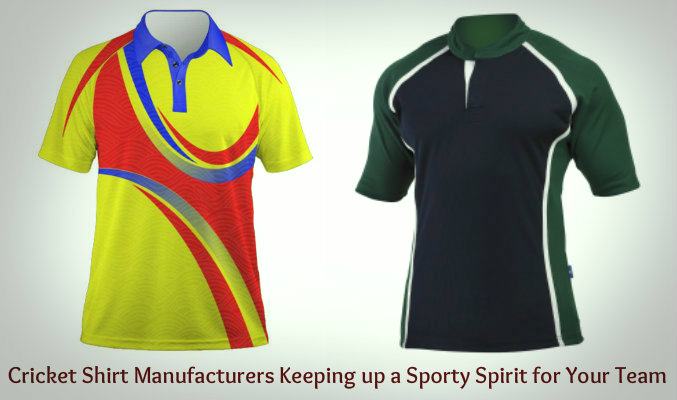 When looking for a cricket shirts manufacturer, always concentrate on the kind of material being used. It should ideally be moisture wicking material which is stretchy and gives scope for easy movement.  he fabric should be breathable and sweat absorbent so that is does not become uncomfortable when wearing for long hours. Because cricket is not an indoor sport, and long hours in the sun can really make you sweat and long training hours to build stamina can get very grueling. All these things are always to be considered when picking the right cricket shirt manufacturer. Usually cricket training shirts are white in color because white reflects heat instead of absorbing it. So, it is more comfortable to wear in the sun and is a way to dodge the heat the smart way.
As a team wear, the team t-shirt is usually colorful to represent the color and spirit of the nation. So, play around with colors too, and energize yourself using color therapy. Red is sure to get your adrenaline rushing whereas yellow will promote better concentration. Green is sure to raise the positivity quotient  and white for neutrality. Play around with colors to enhance your mood and at the same time keep up the sporty vibe of the team.
And yes, without a logo, a cricket team shirt is lifeless. So, do some team building exercise by having the team motto represent your logo. These little things go a long way to hold the team together!
So, we advise you to be spirited all the time and keep it sporty!