Everything You Need to Know before Ordering Ice Hockey Jersey and Equipments
One of the top-notch games, ice hockey is not just tough to play, but also needs ample protection and safety while playing it. With a stick and puck, it is an indoor game, and owing to the chilled environment, the sports kit they specialize in, is different from the rest of the sports. If you are looking to order sports gears in bulk for your ice hockey team players, then get hold of the best ice hockey equipment Australia company and contact them to provide you with customized stuffs, be it the jersey and outfits or the other accessories. Ice Hockey as a game has not only evolved, but also, the accessories and equipments which are designed today elevate a player's performance and also promises utmost protection and security from any hassle or injury, with comfort and convenience. A gear -intense game, you must have an idea of the following while buying the essentials needed for your team:
1. Ice Hockey jersey
The jersey you are looking is one of the most important items for the ice hockey team. They are mostly a bit bigger in size and square in shape with shoulder pads to prevent any kind of shock or injury. Make sure your wholesale manufacturer make them in flexible fabric, which can also give warmth owing to the cold temperature. The top-most ice hockey jerseys wholesale companies come with a lot of options and you need to for the best to make your team stand out from the rest. Following types of jerseys can be thought of:
Replica
Replica jerseys for any sports have all the important graphics and numberings, but only a few minute details go missing. Instead of sewing, the numbers and letters are screen printed.
Replithentic
With better fit, they are costlier as they will also get adorned with slightly more details like piping, bordering, stripes. They come with better quality and whereas half of the things are screen printed, half are stitched on the body of the outfit.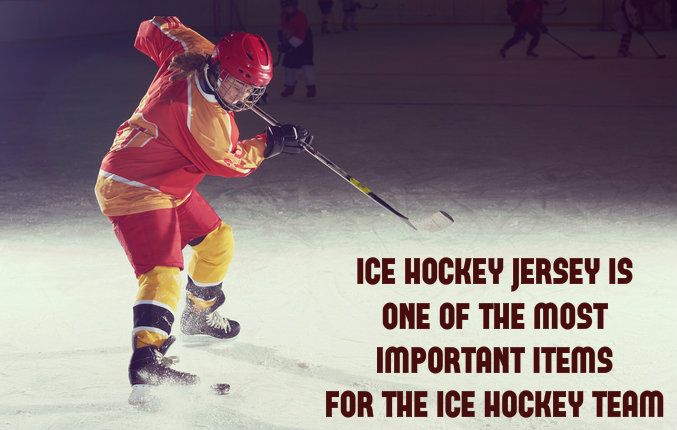 Now that you know the types of jerseys which are available in the market, we will help you with some customization options:
Appealing cut and color
Once you have found one of the best custom ice hockey jerseys Australia companies, now it is time to go for the most endearing cut and color which will help to promote your team and also entice the sponsors well. The color should match up with your team's spirit and there shouldn't be any loss of synchronization.
Feel the fabric
Choose the best fabric which will sustain the rough usage and multiple washes and would not cause the color and quality to go. This will promise longevity of the jerseys.
Sublimation printed
While choosing on how to imprint the logo, numbers and letter, go for sublimation print as they end up giving better results and also stay longer unlike screen printing. Choose an interesting design and place the logo to attract onlookers.
2. Ice Hockey equipments
The equipments consist of helmets, skates, body armor, elbow pads, gloves, sticks, mouth guards, bag, puck and a lot more and all these should be sturdy and of good quality, so that they can help you with the game by elevating your performance and also promise on a long lasting nature.