Four Popular American Football Clothing and Accessories
With its inception in the college campuses, American football has taken its root in the mainstream sports and have become quite famous among the ardent athletes. When the colleges in USA started scheduling inter-college competitions in gridiron games, since then it grabbed spotlight. Later, the rules of the game was evolved by Walter Camp. The equipments of American Football have also gone through evolution just as the game itself. Here is a list of few American football equipment which has been recently introduced in the market. Check out below!
1. Moisture-Wicking Materials:
Comparatively a new invention, moisture-wicking fabric is the ultimate choice of the players. Nowadays, most of the American football jerseys are being crafted with this new-age material which keeps one cool and dry by soaking up all the moisture that are produced while the body is in complete motion during the game. Players get tired and exhausted when they sweat heavily and the constant need of changing their jersey only adds to the hassle. This is why, Kevin Plank started using the moisture-wicking fabric to make American football clothes which has become a big hit in this 21st century gridiron world.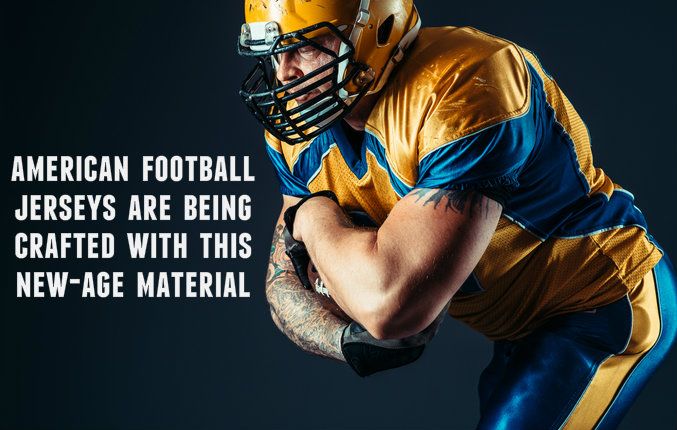 2. Shoulder Pads:
Previously, in gridiron games, no shoulder pads were used. Players used to wear ordinary jerseys like all other sports. However, it started from the 50's decade and has gone through several evolutions since then. At first, shoulder pads in an American football jersey was made of leather and was stitched with the t-shirt. But later, the material changed into foam and plastic which ensured a better protection. And now, the craftsmen of the top manufacturing companies are using the super-advanced technology to make these shoulder pads more breathable and comfortable. Some also have an air-conditioning effect to keep the players cool, apart from preventing shoulder injuries.
3. High Performance Gloves:
Gloves are an integral part of the American football apparel without which one cannot play this game. The gloves also have quite a colourful history like all the other parts of the American football equipment. The manufacturers have innovated new designs of high performance gloves which have made it easy for the players to hold and catch the balls without hurting their fingers.
4. Slim Fit Jerseys:
If you look at one of the latest American football jerseys, you will a big difference from those of the previous era. Today's jerseys are slim-fit and can support the muscles of the players preventing injuries. On the other hand, these also make them look stylish on the playground, raising the number of their fan following.