Heat up the Runway in Stylish Athletic Clothing
Are you the one who wants to sport active wear at the next fashion show? Then get ready to look like a sporty-diva amidst all the glitz and glamour and set a brand new runway trend that women would die for. The athletic clothing manufacturers all over are introducing crisp and modern inventory to spruce up the stocks of the retailers and business owners, hence, getting the desired chic look becomes hassle-free.
Worn in verve, these runways looks will definitely make you a head turner, making everyone chase for styling tips!
Long for lovely layers
Call for a dark colored jersey dress for walking the ramp, with an added twist offered by layering it casually. All you need is a subdued open loose-fitted cardigan and a big hat accessorized by a long statement neckpiece to add flair! Keep your hair carelessly open for a perfect street-smart look!
Be the tootsie girl
With the bomber jackets hitting the trend list gradually, you could just pick one such in vibrant floral prints with well-fitted elasticized hand cuffs in dark colored piping. Thinking how to turn this bomber into something very girly? Team it up with a sheers flouncy long skirt!
Glowing glimmers
Shine and sparkle in poise with a lot of shimmer -glimmer added to your attire. A scintillating metallic finished athletic jacket or lowers will render you the spontaneously dressed up party pooper look. Who knows, you can actually hit the party right after the runway show!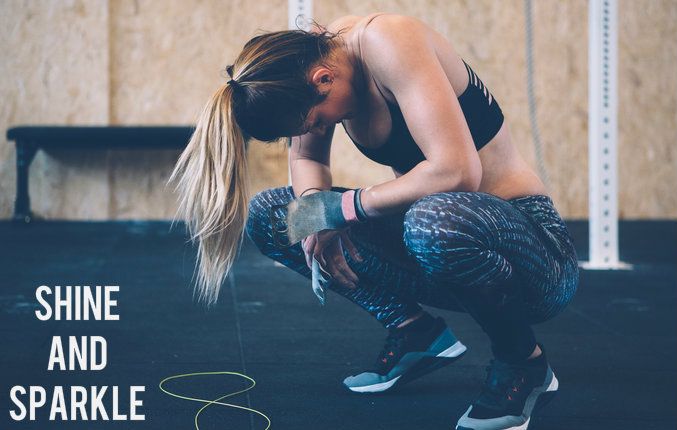 Modish but melodramatic
Opt for a very stylized and hyperbolic get up on the ramp in any active wear which extravagant detailing in terms of colors, patterns or stitching. A simple active wear might go unnoticed amidst others, but farfetched detailed one will definitely add the required knack.
Clash of colors
Go for the flamboyant matchy-matchy colored athletic outfits to become the center of attraction. However, while doing this, remember to stay away from becoming comical with the wrong cut or design and excessive accessories.
Straight from the practice sessions
Get a fluent and flowing athletic appearance with an oversized tennis V-neck sweater put over a tee and tennis short shirt, with understated accessories. This will impart a very 'get up and go' look without being cartoonist or over the top.
Trap the mesh
Go for mesh-outfits over anything, be it a sexy camisole, dashing dungaree, these transparent active wear range looks ravishing for the runway look, with the perfectly heeled stilettos and a hair bun!
Move away from the trends
Ask your designer to get something different in terms of athletic clothing, so that people tend to follow you blindly! Contact the top-notch among the athletic clothing manufacturers USA companies for a fleece mini dress with sports quotes over it or even autumnal hues soft leather twin outfit, rendering a completely out of the box look! This way, day cheers to bizarre fashion experiments!
Hence, hitting the fashion ramp just becomes very easy with the proper active wear, just by providing a little twist to add the required appeal! Retailers too are bringing variety in their collection by dealing with leading athletic clothing manufacturers.