Here is How You Choose the Best Manufacturers for American Football Teamwear
American football is a celebrated sport not just in America but in many places across the world. At present, there are infinite different teams whether professional, semi professional, academic, corporate or otherwise that engage in this sport season after season and keep practicing to maintain fitness for the same all through the year. Considering the nature of the sport, which of course is very trying and challenging, it is more than just necessary to ensure that the clothing associated with the American Football per se, lives up to expectations. One can say with all certainty that the quality of American football clothing goes a long way in adding or subtracting from the performance of the players.
This makes it imperative in the part of the team authorities to exercise every bit of caution when it comes to choosing the right wholesale manufacturers for the same. For those who may not have any prior experience in judging the best, here are a few basic parameters that can help in landing with quality providers…
Trust the internet – When you run a search in the internet today, you are sure to come across some of the most reputed and reliable names under the wing of American football team wear manufacturers in the very first page itself. You can run your eyes through the reviews to determine the depth of their reputation.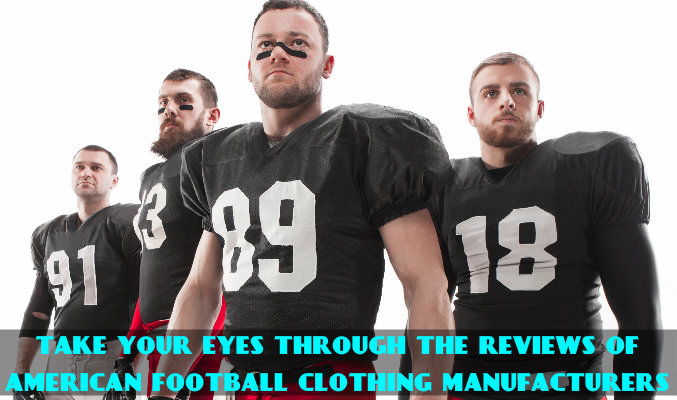 Judge completeness of the catalogue – On locating manufacturers that have won your attention, it is time to see if their catalogues are all inclusive. This means that the providers must offer everything from A to Z of the clothing and accessories required in the sport. From helmets to American football jersey, from protective gears to shoes, nothing should be far from the scope of the manufacturers.
Determine availability of variety – The trends in American football has evolved over the years and these are the days when sports people and spectators expect to see the field dazzling with head turning turnouts. So, it is imperative for the manufacturers to be bold and house options that are trendy and far over the common and ordinary.
Harmony of cost and quality – Last but not the least, it is necessary to be convinced about the harmony of cost and quality of the products you seek to buy in bulk for your team. It is a fact that clothes for American football will never be available at dirt cheap from quality providers mostly because the latter maintain very high quality standards. However, the number so spelt out at the end of the day should be compatible with the overall budget so decided by the team authorities.