Importance of Sizing Ice Hockey Equipments
Sizing of ice hockey equipments is extremely essential for maximizing the performance of the players. From helmet to the skates, everything needs to abide by the rules of sizing so that the wearers can be their best without facing restrictions from their gears. More often than not, this is not a sport where one size fits all applies. The need for thorough customization usually comes up while designing team gears irrespective of age group of levels of expertise.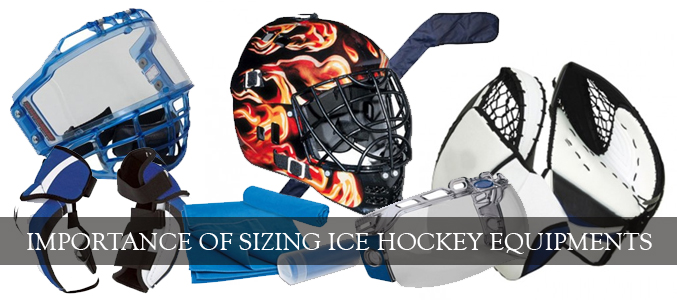 Among the equipments that cannot do without proper sizing, helmets can be mentioned among the foremost. Helmets are the most important safety gears in ice hockey. In very simple words, better the helmet fits greater will be the protection offered. Everything from the cushion to the shell right from the straps to the cage needs to be designed according to the head-size levels of the players.
Manufacturers of ice hockey equipment Australia also lay ample emphasis on the shape of the cage to suit the face structure of individual players. And this is not just about major leagues but the amateur players as well.


Ice hockey shoulder pad sizing is just as important as helmets. A well fitting shoulder pad offers protection to the upper body including the collarbone, ribcage, biceps and back. A size too big or a size too small may compromise on comfort, affect performance and cause more damage than protect the player from external injuries. Spending some time to determine the right size for the concerned team members can amount to time and money well spent.
The next set of equipments that are bound to fail without proper sizing are the knee and shin protective pads. A proper fit is expected to envelop the patella (knee cap area) perfectly without skidding or hugging the area too tight. A size too big or a size too small will not just compromise movement in the part of the player but risk causing additional damages as well. The same can be said about ice hockey gloves, apparels, skates and underclothing as well.
Considering the fact that no aspect of ice hockey equipments and clothing can be taken for granted, it is imperative in the part of the bulk buyers to look for manufacturers who are exceptionally meticulous about sizing while taking orders. While it is true that the best of the lot is sure to come at a cost, this will be an investment well made.
Tags: