Latest Styles in Cotton T-Shirts for Those Who Love Going Casual
This millennial world is all about less and more, so this generation is all about casual. Street fashion has been gaining popularity among teenagers and young-adults due to the comfort that they dispense and the versatile nature of the apparels that is included in it. Basic t-shirts are something each and every one of us know and wear on most days, whether it is a regular day at the university, for running daily errands and going to the office, t-shirts are must-have apparels. However, designers are bending over backwards to come up with fresh styles and trendy prints in classic t-shirts that are bound to turn heads on the road, to give these basic clothes a fashionable twist of their own, and make them more wearable.
A range of colors to choose from
Colorful t-shirts with eye-catching patterns and prints have become quite a popular when used on t-shirt designs. Vibrant colors look lively and joyful, steal the limelight and emanate positivity. They can easily make any basic t-shirt come alive in an instant. For those who feel that vibrant pop of colors are extremely loud and out there, can avail pastel shades and more subtle hues. Among the latest colors that have been trending in recent times, sunshine yellow, crimson, hot red, candy pink, neon shades and electric blue are to name a few.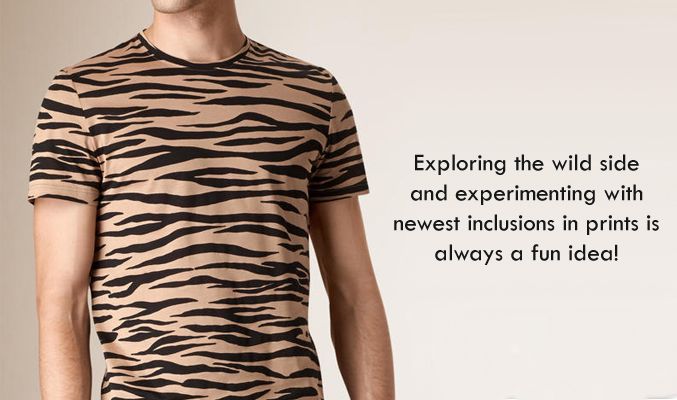 Animal prints to explore your wild side
Exploring the wild side and experimenting with newest inclusions in prints is always a fun idea! This is why the best wholesale womens clothing manufacturers the US, design and manufacture t-shirts that are sublimated with animal prints such as leopard prints and snake prints which look extremely fashionable and chic, made exclusively for women. However, stylizing animal printed t-shirts is a bit tricky and needs careful attention for you can easily go wrong and overdo it! As witnessed on celebrity fashion icons and actresses, these variants of t-shirts look best when worn with plain white jeans, complemented with a denim jacket and large hoop earrings. The retro look of animal printed t-shirts looks classy and playful at the same time, adding to your personality and making you the center of attention at an event or occasion. Those who avoid dressing up for party can easily don this combination to dress it down yet look attractive.
Glitched or faded letters for retro-lovers
Retro fashion has been slowly making inroads into the industry due to their classic styles and chic prints. These variants in t-shirts have faded fonts and disappearing letters that will appeal to the old soul in you, and the baggy and oversized style of these shirts imparts comfort all throughout the day. Designers are falling back on styles from the roaring 80s and rock n' roll 90's with retro fonts in psychedelic colors. The use of groovy fonts in an array of funky colors is an effective way to reinvent and jazz-up a very basic graphic tee into a fashionable piece of apparel, which can be donned by men and women alike. A statement retro graphic t-shirt manufactured by the best mens clothing manufacturers in the US can be conveniently dressed up or dressed down and worn to any sort of social occasion.