Make Your Inventory Exciting with Wholesale Women Swimwear
Summer is coming and everyone's hitting the beach. And so are the pretty women who are adding the oomph quotient to the beach or swimming pool with their lovely swimming costumes uk. Swimwear comprises of a wardrobe essential and are available in a plethora of styles, colours, designs and patterns. It is ultimately your choice to pick but it is advisable that you go with the one that complements your body type the most.
One piece swimsuit
One of the most common and popular item in wholesale women swimwear is one piece swimsuit. As the name suggests, it comprises of a single piece that covers the tops portion of your body as well as crotch and buttocks. This is available in wide variations in terms of cut and style as well as designs and patterns. In this you could go for racer back style, halter neck and normal strap. Racer back style is mostly preferred by active swimmers as it keeps your arms free and thereby enhances your performance. These swim suits come in attractive monochromatic colours like red, blue and black. You can also go for printed ones. As far as prints are concerned, you have unlimited options. But you see mostly women endorsing common prints like polka dots, stars, floral patterns and animal print.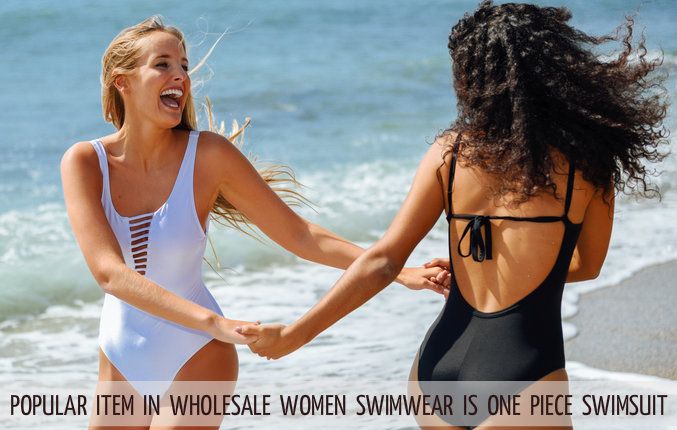 Bikini
Also known as two piece, this swim suit has one piece covering the breasts and the other covering the groin and buttocks. Probably the sassiest outfit among all, this style of swim wear gives you enough opportunity to flaunt your well toned body. Here also you can avail of innumerable variations.
Tankini
This too consists of two piece, one that covers the upper body including your belly portion. The other part is like your lower undergarment. Thus, a small portion of your belly is visible. The tank top can come in a number of stylish variations. Here, you can also mix and match and wear your swimwear.
So, next time when you are going for a beach holiday or just out there to swim, make sure you endorse the best swim wear. These are readily available in retail outlets. If you own such a retail store, then it's a good idea to stock up your inventory with all the varieties available in swimwear so that none of your customer goes empty handed. Buying in bulk directly from swimming clothing manufacturer will give you better prices.