The Latest Trends in Lingerie Worth Checking Out
When it comes to lingerie, style is as important as comfort and fit. Lingerie is no longer limited to the same old basic bras and panties that come in little to no color variations or styles. Nowadays, designers are creating delicate and intricate designs in lingerie for women that are attractive and appealing to look at and just as comfortable to wear.
This is bound to provide your customers with a sense of confidence every time they walk out of the house. Unlike general clothes, undergarments are comparatively tougher to design as every customer has their own set of requirements when it comes to lingerie and inner wear. Hence, only leading lingerie manufacturers have that insight to come up with designs that are exactly at par with all the possible requirements of your customers.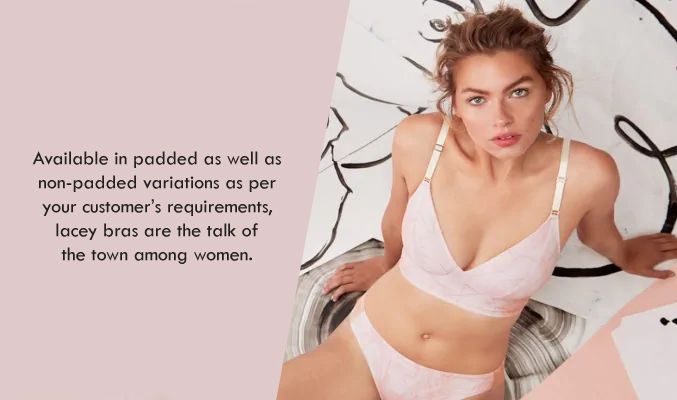 Stunning lacey bras
Available in padded as well as non-padded variations as per your customer's requirements, lacey bras are the talk of the town among women. They come in stunning color variations such as pale pink and off-white with intricately crafted lace embroidery on the borders of the cups or on the full body of the apparel. Extremely lightweight and feathery soft to touch, these bras are the perfect blend of comfort and style. Containing intelligent ventilation and made up of breathable fabric, they provide optimal support and comfort, all day long.
Go bold with black lingerie sets
Sometimes customers opt for lingerie sets that complement each other without looking for separate pieces. The bold black lingerie sets are the perfect mixture of delicate and daring, designed to flaunt and uplift your posture while providing the ultimate level of comfort. The dainty lacework is beautifully woven on every single piece and feels like nothing on the skin. Seamless stitching and well-ventilated fabric keeps discomfort and irritability at bay, while eco-friendly material maintains the hygiene quotient.
Prioritize comfort in regular bras
While lounging on a lazy, uneventful day, customers just want to opt for something basic and comfortable. This is where color block regular bras come into play. These bras are especially designed for enhancing the comfort level while providing maximum support. Endowed with pads and wired cups, these bras come in full-coverage varieties and uplift the frame providing all-round support to the breasts. Made of breathable and skin-friendly fabric, they absorb sweat and maintain hygiene without causing any irritation or discomfort even after being worn throughout the day.
Retailers and private level business owners who are looking to avail of enviable trends in men's underwear as well, should place their trust on only the best underwear manufacturers in the US.