The Trending Prints Witnessed in Sublimated Jackets Crafted by Wholesale Companies
The celebs and runway models are witnessed signaling the return of printed jackets into the global fashion scene today. Ripe with prints, patterns and motifs all over the body, these jackets turn out to be eye-popping visuals, in splash of colors, retro vibes, geo shapes, ornate floral motifs and many more. Screen printing would have given way to these designs, but what the sublimation printing technology has been doing to the global fashion scene is completely commendable.
Today women are no longer restricting themselves to the drab and banal monochromes when it comes to wearing jackets. The cutting-edge sublimation printing process has made way to the textile industry to introduce durable and high quality printed outfits, whose designs are more realistic and visually appealing. The attention grabbing prints are definitely one of the most trending fashion highlights of today, and whether you wear the printed jackets crafted by the leading sublimation jacket wholesale companies t party or casual outing s, they will notch up your appeal equally.
We will get you covered with the most trending prints which the custom sublimated jackets are witnessing today.
Graphic black and white
Though sublimation is all about the usage of vibrant and bold colors, the graphic white and black prints are also given the perfect finesse by the sublimation process. They come in different shapes and structures, be it the stripes, checks, wavy lines or something else. These on the jackets give a soothing yet smart look and looks best when paired with jet black or denim bottom wear.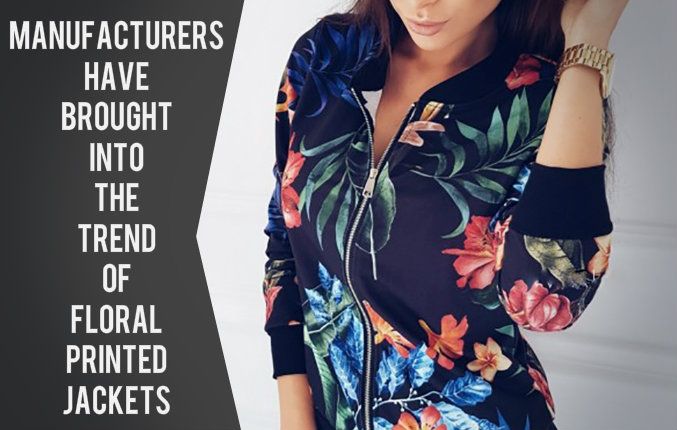 Retro florals
Especially for the women, the manufacturers have brought into the trend of floral printed jackets which breathe with feminine grace and absolutely stunning to look at. In base colors of cream, pink, sky blue and yellow, these mini or large floral accents add a refined finesse to the sublimated jackets, in a bursts of color shades.
Bandana prints
The bandana prints come in sleek and minute detailing with black and white, blue and white or red and white color combinations. Subtle and subdued, these prints are intricately done and count for a very elegant and yet casual finishing on jackets.
Gingham checks
You can never get rid of the gingham plaid patterns which are ruling the fashion scene since ages. Mostly in duo tone shades, they are also seen in multiple color patterns through sublimation printing process on jackets. Happens to be a very versatile and dashing print trend.
Art house craze
The punk and funky looking sublimated jackets come with arthouse representations, or basically the abstract art motifs. In w splash of colors, they portray figures and scenes, in a painting like silhouette, adding a lot of grace and charm to the jackets, perfect for the party nights or clubbing scenes.
Boho tribal
You can step into your favourite retail store to cinch on to the tribal printed sublimate jacket produced by the leading sublimated jacket supplier. The tribal prints come in a wide array of color combinations, and reflect a zesty appeal.
Tropical motifs
The leading manufacturers have brought into the unique print of tropical motifs, in the form of colorful plans and flowers, to give into an easy breezy stance through the smart looking sublimated printed jackets.