The Ultra Winter Marathon Apparels and Essentials
Well, to be honest running in the winters can really be a pain. With the darkness and the biting cold, breaking your hip is quite a task. On contrary, there is a pleasing pleasant beauty of elegance in winter, which you will understand only when you run through it. The first snow and the sudden fall of chill has a very positive end to it, which can be appreciated perhaps will be the best way to unveil the better half of winter.
However practically speaking, running a marathon for approximately 268 miles is not a matter of joke in fact requires a lot of gear, but remember that does not mean over boarding. The lighter, the better!
Marathon clothing
When its winter you know it's time for layering, and for a marathon running in winter layering is a key. Compression clothing is significant for the base layers, which must include compression trail shorts, calf-guards and trail t-shirts, the best ways to limit chafing.
The middle layer responsibility are to be best handled by body energizing long sleeved cutting edge technology t-shirts that would be best in wicking moisture away, produce and retain warmth in the body. These toasty middle layers are enough during the daylight and light wind-shell in the outer layer is adequate.
Unless you are too brave, it is advisable to opt for the warm tights to stay comfortable in all conditions and restrict the air from seeping inside, for the smart airtight ankle stitch. Winters can often be blessed with wet, windy and dropping temperatures, hence packing marathon t-shirts or outer-layers and even pants which are wind and water resistant.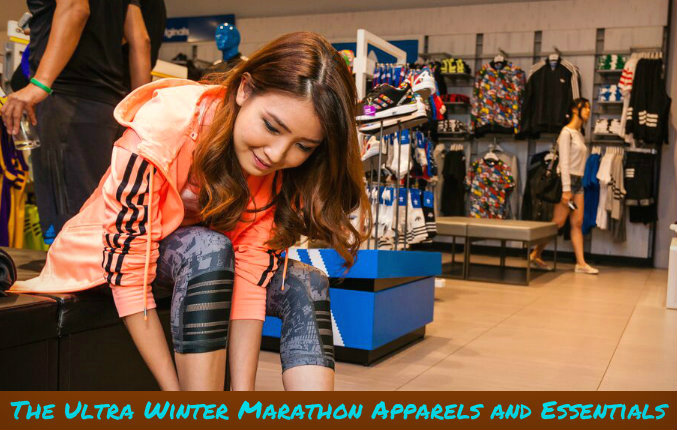 Instead of thinking why did even participate in such a running race, it is best to be well equipped and fight all harsh situations to get the best of it. Pullovers likewise will be the ideal outer layers for the dropping temperatures, only if they are the advanced high tech fabric made running apparels. Hypothermia is a common catch in such dropping temperatures, hence use of pullovers mostly with synthetic lightweight microfiber thermal insulation materials that keep you super warm even when wet.
Are you still stuck with the gloves? Well, racing organizations now recommend the mitts. They are gloves, but bigger covering the whole hand and better fully protecting your hands. They are warmer than the gloves with lobster claw inners it makes fiddling easier.
Marathon shoes
Cushioning the tip does not make you ready for the marathon run. Proper cushioning footwear are equally important giving you better protection. From trail ultra shoes will keep your feet absolutely dry, which also a key to such marathon adventure or any running race for that matter. You might just be surprised to find your feet a little bigger the next morning! Well, don't worry; swelling could be a common problem, so just carry a pair of shoes one size bigger than the usual.
Essential kit list
Depending on the kind of marathon or running race, some essential winter ultra marathon kits become a necessity. A head torch preferably the lithium batteries, GPS, Tents, sleeping bags, roll mats, stove and pan, ice spikes and Ruck-sack are to be kept in mind while you prepare a marathon kit list.