Things to Remember While Buying American Football Shorts
American football gear is designed for uncompromised performance and nothing about it can be left to chance. One cannot say it enough that American football as a sport, drives the fitness levels of players to the edge and beyond, something which the clothes need to endure without giving up or giving in. From shoes and helmets to socks and shorts, everything needs to comply with the standards as well as the individual comfort levels of the wearers. As far as shorts are concerned, special care and attention needs to be focused by the buyers when placing orders for the same.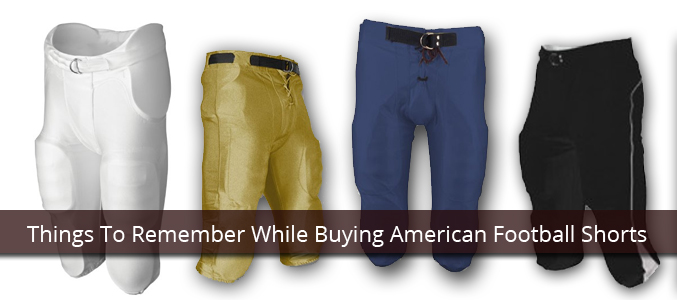 Considering the fact that shorts directly determine the extent of flexibility of the lower body while on the field, neglecting even the tiniest aspect can bring down the performance of the players by leaps. Basically, the simplest way to land with the perfect team shorts is to approach quality American Football shorts manufacturers who have established some reputation in the field and have also gathered good reviews in its favor over the course of its functioning. On other occasions, buyers will have to understand the requirements and place orders accordingly.
Here are some golden guidelines that can help in the process…
To begin with, never neglect updated fabric types even if it costs a little more than the basic. Piling perspiration, muscle fatigue, compromised flexibility and of course, itchiness can be associated with poor quality fabrics used in American football shorts. Whether for professional or unprofessional or even preschool and middle school teams, absorbent, quick drying and flexible fabric must be given preference.
Secondly, size is a critical factor while choosing American Football shorts. Basically, these shorts are also home to a wide range of protective gears which can get thoroughly misplaced if the shorts are tad too tight or bit too loose. So, buyers will need to take individual sizes of individual team members for strictly customized orders. This may again, cost a bit but is well worth the effort.
Fabric and size are the two critical aspects of American football shorts which when taken care of, the rest seems to fall in place almost effortlessly. Bulk buyers can also choose trendy prints and patterns that are in tune with the logo of the team and that which can give the latter a literally head turning effect as they march into the field. Many motivated American Football wear manufacturers offer very flexible customization options which can work wonderfully in this respect.