What You Can Customize from the American Football Clothing Manufacturers for Your Team!
When it comes to team jerseys, you certainly have your own logo, names, numbers and colours with which you want your apparels to be embellished, right? Every team's identity lies partially on its apparels. Players slip into their team jerseys to represent a country or sometimes a region.However, sports apparels impact the level of performance of the players by offering them optimum comfort and making them look and feel stylish on the playground.But if there is a mistake in choosing the right athletic clothes, it may also be the spoilsport for the wearer.
To avail the team jerseys designed in your own style, you can now rely on the top-notch American football clothing manufacturerswho have arrived online with all the facilities like customization, online order and payment as well as home delivery. They offer you the chance to customize the American football apparels just in your own way! Check out what are the items you can add your personal touch to.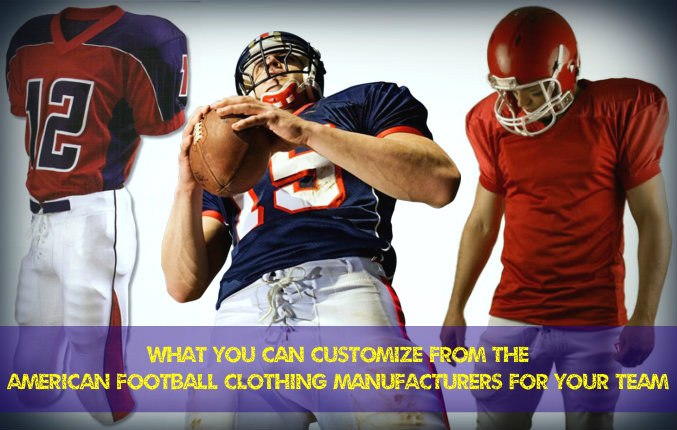 American Football Jersey:
If you are planning to create a new identity for your American football team, then the first thing that you have to take into consideration is the design of the jersey. Starting from choosing the colour to the official logo of your team, spell out all your requirement to the manufacturers through email and they will be ready to cater to you with their expertise.
Stylize the Shorts:
Shorts form an important part of the American football clothing. You have to match the colour of your American football shorts with that of your jersey in order to bring the symmetry. With the sports clothing manufacturers in the virtual arena, you can easily place your order for the customized American football shorts that will complement the jersey that you have chosen for your team.
American Football Shirts:
Get bespoke American football shirts with the help of the top-rated sports clothing manufacturers. When you need a large amount of these clothes, resort to these suppliers as they offer bulk clothes at minimum wholesale rates. The expert designers will give it the exact shape that you have imagined for your team.
Not just for the esteemed team owners, the American football clothing manufacturers also supply their items to the retailers who deal in athletic apparels. So, browse through the search engines and find out your team jersey maker, right with a click.