Enhance Your Cafe with Customized Clothes from a Private Label Clothing Manufacturer
In a world full of possibilities, the fashion scene has given rise to endless promotional clothing options in terms of latest and trendy customization designs to opt for, enhancing one's business to new heights. Thanks to the top-notch private label clothing manufacturers for their highly creative expertise and skilled designer team for churning out amazing collections of personalized clothed suiting individual requirements and preferences.
If you have recently opened a lavish rooftop cafe, but puzzled on how to advertise it properly without pocket digging investment, nothing works better than customized clothes. We will get you covered with the following ideas to go for this marketing tool on getting in touch with a reputed private label clothing manufacturer USA Company:
1. Peppy-funky foodie prints
The recent trend in sublimation technology has given way to newfangled range of patterns and prints to be offered on clothes. This includes motifs and pictures of food items, drinks, beverages and deserts. With the much needed 3-D effect, these images are embossed in vibrant color combinations, reflecting the love for foods. The patterns can be of ketchup, cheese, fast food items, ice creams, cakes, wafers, beers, coffees and many more. Hence, if your employees slip into tees with these patterns, the visual appeal will definitely be tremendous on onlookers.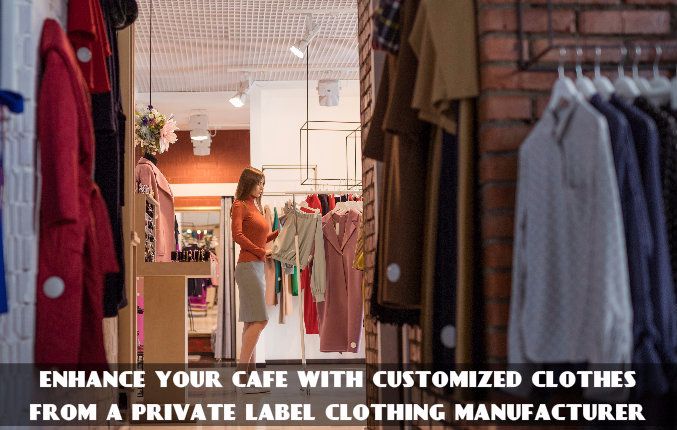 2. Colors and more colors
The colors which you decide to splash on the tees must reflect the connection with food and appetite. Shades associated with food items like green, brown, white, red and others should get a proper place. Go for single colors or color blocking in contrasts, with the proper embossment of logo and cafe name or tagline in appealing design and font for quick acceptance by visitors.
3. Witty quotes and one liner
The recent trend of tees with catchy and funny quotes and messages is grabbing a lot of attention in the global fashion scene. Why not opt for this idea to promote your cafe? Think of witty one-liners, messages and quotes on your cafe, the story behind it tersely or write-ups on food and food lovers with cutting-edge appeal and prep, for the ultimate flair and verve, so that visitors get to connect with your cafe and its nuances well. While briefing your designers on this, ensure asking him to add stylish fonts and colors, which sync well with the theme of your business, so that there is no discrepancy visible.
Thus, among the leading and high-grade private label apparel manufacturers who are globally acclaimed, get through the best one to kick start your cafe venture, through insanely-popular customized clothes in jaw-dropping designs and styles vouching for amazing quality and impact.