Flannel Clothing Guide for Different Occasions
When we discuss comfortable and casual clothes that are also fashionable the first thing that comes to mind is a flannel attire. Be it a girl or a guy, almost everyone has flannel clothing in her or his closet. Button-up flannel shirts are the white t-shirts of the fall season. They are the kind of staple that goes with almost everything, it can make you look wonderfully basic, feminine or punk.
Escape from your washed-out flannel with leggings and boots combination with some of the classic styling tricks that will make getting decked up that much simpler. Let's take a look at some of the interesting flannel outfits, the smart ways you have never considered styling your go-to plaid and the latest wholesale womens clothing before.
First things first, here are some basic rules one should keep in mind before donning that flannel look:
Do not brighten up your appearance too much by putting on an extravagant color shirt beneath an unbuttoned, plaid flannel shirt.
Never put on anything else that has got checkered-design on it when putting on a plaid flannel shirt.
You can don a long flannel as a dress.
If you are putting on a saggy flannel, team it up with either skinny jeans or leggings.
Your style guide:
Best flannel color
Any color you fancy the most would be the best for you. Nevertheless, in the chase of flannel, the color that outshines all others is red. Red is the most elegant, it looks serene yet bold.
Getting the hipster look
Hipsters don't just put on a flannel, they own it! A universal look is putting on shorts with a plain shirt alongside a flannel shirt tied around their waist. Or they button it down along with Capri jeans and the sleeve of the flannel folded right up to their elbows.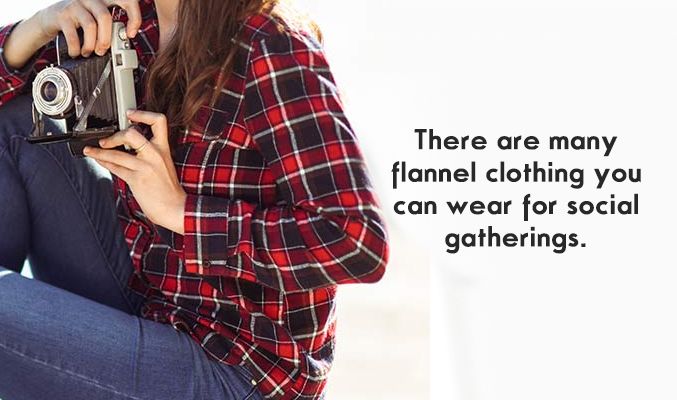 The party look
There are many flannel clothing you can wear for social gatherings. Flannels aren't plaid always, they also come in plain colors. They aren't just worn as dresses and shirts but as suits as well. There are several flannel inspirations you can take benefit from. Just pick the style that fits you best and let you be yourself.
The button-down flannel shirt
A flannel shirt with all its buttons done is a prim and proper way to flaunt it. It looks fancy and neat at the same time. To make the appearance a bit relaxed you can throw on ripped jeans with it.
Business owners who want to bulk order wholesale flannel shirts for their store can contact one of the popular manufacturers. All you need to go is go through their massive collection of clothing, pick the required pieces and state the bulk requirement to the support team for the same.