How to Wear Flannel Shirts This Winter Minus the Lumberjack Trend
Understanding Flannel closely
With roots in 16th century Scotland, flannel is widely popular for its insulating qualities. Before proceeding, it is important to point out that there are various types of flannel. While the baby flannel is essentially used to make clothes for the young ones, Canton flannel and Ceylon flannel are common for making garments for the adults. Canton is made of napped cotton whereas Ceylon is a hybrid when wool and cotton are mixed. So it goes without saying that Ceylon is the fabric that goes best for the colder months of the year.
When picking flannel, it is of utmost importance to pick the fabric that does not feel heavy for it may make look bulky and can be obstructing. Choose flannel that feels light and graceful to be comfortable when worn for a longer time.
Flannel minus plaid
It is a common myth that plaid is a type of fabric. But to come absolutely clear, plaid is a pattern that is highly associated with flannel. Many a times, plaid and flannel appear together but flannel is also available in solid colours. They look extremely classy and smart without giving you rough and rugged lumberjack aesthetics, which the shirts are highly symbolic of. From shades of yellow to red, brown to blue, they are available in an array of palette. Flannels without the plaid pattern adorning them can be easily worked with other apparels and will make a noteworthy addition to the wardrobe. With mens flannel shirt manufacturers usa having designed them keeping this trend in mind, will surely make you spoiled for choice.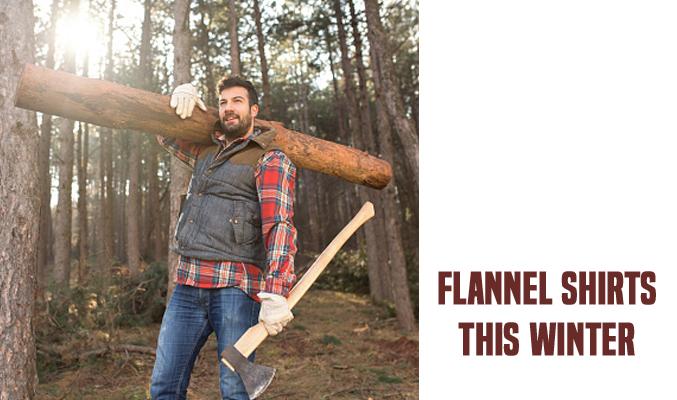 Style Tips
For incorporating solid flannel shirts in your casual wear, opt for a darker palette and team them with a pair of well-fitted jeans. The look can be enhanced by wearing a pair of smart loafers. Aviators and a leather jacket can be great picks for accessories. For an alternative, you can also wear the shirt like a jacket with the buttons flying open, over a graphic tee. A pair of baggy pants and white trainers can work well with the ensemble. These two casual appearances can make you stand out when you go for those weekly errands or hang out with your friends.
Solid flannel shirts can be a tasteful choice for formal settings. Tuck the flannel piece of clothing inside a pair of tailored chinos. Wear a flamboyant looking belt to give more prominence to the shirt. You can opt for a tie depending on the situation and your mood. Complement the attire by a pair of smart loafers. Flannels work best when worn in layers. So a sleek suede coat or an elegant blazer can make you look at the top of your game. A trendy pair of shades and a messenger bag will have all your colleagues admiring you.
So turn the heat up this winter with the perfect flannel shirt looking your best. Retailers can get mens flannel shirts wholesale with striking discounts. Register with the dealers online for the best deals and to get the latest products that they have to offer.