Opt for High Quality Sportswear from Rugby Apparel Manufacturers
Rugby might not be as popular and famous all over the world as soccer or cricket, but those who play the game would tell you that there can be nothing like it. And that is a fact, as rugby packs in excitement and thrill like no other game. The players need to be extremely agile and strong and on the field, they can be quiet aggressive. However, all of this is possible only because they have some really strong clothing protecting their back!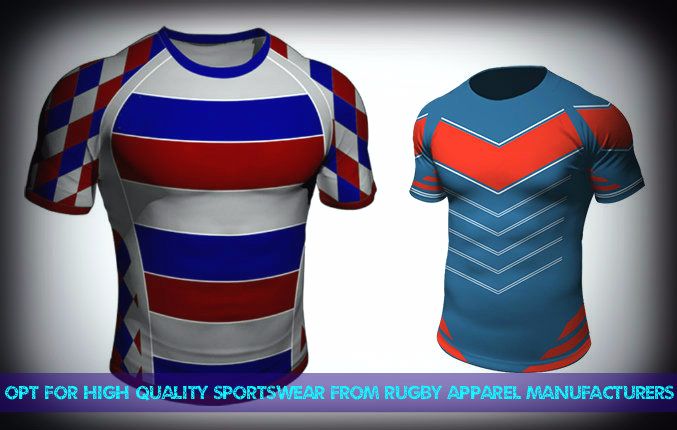 Yes, rugby apparel manufacturers know the heavy requirements of the game. The rugby jersey has to be made from very comfortable fabric. The material should be soft and made from absorbent material that will absorb perspiration and will dry out fast as well. They should be very strong, without being bulky in the least. Or else it will restrict the movement of the players on the field. It makes sense to order rugby uniforms on a wholesale basis as there is enough number of players on the team to make individual purchases expensive. Having a good rapport with a manufacturer will ensure that you have all the clothing you need for a big game as the clothing requirements are not just limited to the jerseys of the players. There are ground staff and trainers, the referee and the coach to be taken into account as well. So putting together the clothing of a game is not a game after all!
If you are looking for customized clothing, then there can be nothing better than a direct session with the manufacture. Whether you want the jerseys to be in a particular color, whether the name and the logo of the sponsor of the team is going to be featured on them, the particular font in which the names of the players would be imprinted on the back, the clothing size of the various players- these are nuances which generally govern the designing of any sports jersey and rugby uniforms would be no exception. A few sessions are important if you want your jerseys flawlessly delivered so as not to have any time constraints before the game. The order should also be placed well in advanced so that the manufactures have adequate time on their hands to deliver your assignment.
Rugby apparel manufacturers are sure to understand your requirements and deliver exactly what you want.