The Exciting Style Ideas to Own the Wide Legged Flannel Pants
Just when you thought you have upgraded your wardrobe with this season's trendiest outfits, the wide legged pants proved you wrong. The narrow fitted trousers are still ruling, but definitely and vintage bell-bottoms have made a swift entry once again into the global fashion scene. When it comes to the fabric or style they possess, the leading flannel pants manufacturers are crafting them in check patterns and comfortable flannel fabric. Thus the classic flannel fabric, check patterns and the wide legged style are fused together to create something very updates, magical and incredibly fashionable.
Be it to the party, while running errands on the weekends, casual outings, airport styling, or to the formal occasions, these wide legged flannel pants come to your rescue every time for being so versatile and uber-stylish. You just need to add twists, and experiment with their looks so that every time you slip into them, a fresh new style quotient can be reflected.
Here are some of the sizzling style idea to try out.
The beach party look
Do you want to look very carefree and casual, just like you are heading to a beach party? You can tuck in a silk neutral shaded lightweight button down shirt into the flannel pant. This silk blouse when combined with the flannel wide legged trouser will give way to something very unique and fashionable for any occasion.
The fiercely contemporary stance
Look like the independent and strong girl as you pair up the flannel trouser with a contrasting colored shirt, and layer this up with check blazer, or a statement colored blazer for the smartest and classiest ensemble possible. The clutch bag with platform heels will definitely complete your look.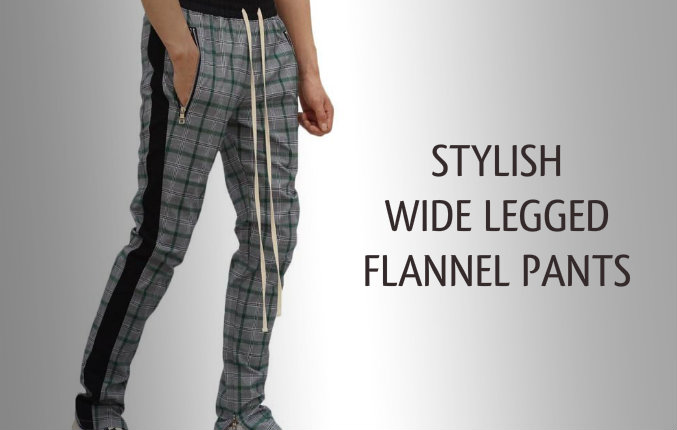 Modish tomboyish flair
Get going with a very sporty, edgy and most importantly a tomboyish flair as you pair up a graphic tee, or a jersey tee with a wide legged flannel pant. This combo adds a very modern verve to your persona, and make you no less than a very carelessly casual woman, who knows how to look the best in any attire confidently!
Print and checks combine
Just because you are wearing plaids doesn't mean you have to stick to the single colored tops only, and you can add a printed top too to the plaid patterned pant. Make sure that the patterns combine well, and do not cause a complicated look. Keep a contrast in the shapes and colors of the patterns, and effect a very voguish effect altogether.
Opt for a cropped style for night out
If you are getting ready for a party at night on the weekends, you need to think different. What about a crop top with the high waist wide legged flannel pant? Sneak intpo your retail store to get the high waist wide legged pant crafted by a reputed flannel clothing manufacturer, and team this with a crop top, and may be layered with a kimono. This will notch up your simple look to something very cool and stylish.
The long line jacket to elongate the silhouette
Make your torso and legs get the elongated and slim silhouette, as you wear the wide legged flannel pant with a long line jacket and a tank top for travelling, and especially I the winter for the cozy feel.
Thus, be it the wide legged flannel pant or the flannel pajama pants wholesale pieces, flannel has opened new range of options for bottom wear.