The Grunge Aesthetic Guide for Fall Season
It is common to see flannel plaids and chunky boots trending during the fall season, but this time around, it was the styling of said items that birthed the undeniable grunge aesthetic. The '90s look has worked its way back into the wardrobes of fashion girls everywhere over the course of the past couple of years, and 2020 is also the best time to flaunt it, cause why not? Retail business owners who want to invest in such clothing can contact one of the renowned wholesale clothing manufacturers. Read on as we have listed the basics in the blog below.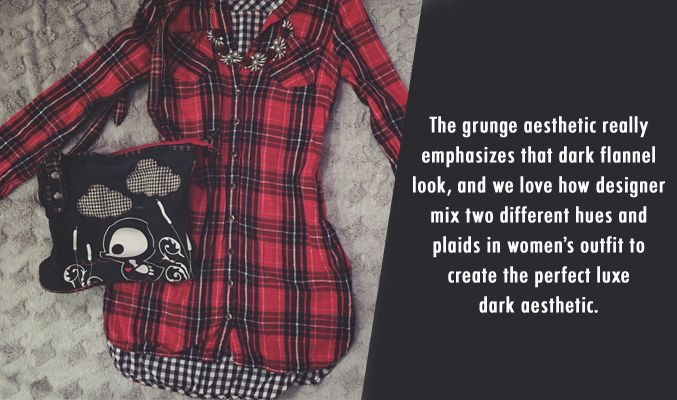 The grunge aesthetic really emphasizes that dark flannel look, and we love how designer mix two different hues and plaids in women's outfit to create the perfect luxe dark aesthetic. Worn over more delicate silky pieces like a slip dress, this look feels so fresh for fall.
Let's repeat together, Chains, safety pins, and belts. These three details will make or break your attempt at achieving the grunge vibe. Even if you're wearing a simple black suit, the addition of a chunky chain choker and an edgy belt will instantly transform your look.
From the cropped and ripped flannel to the buckled leather harness, this look proves that even a ruffled midi skirt and white crystal-adorned pumps can benefit from a little grunge update this season. So, don't shy away from experimenting with your clothing because it is the best way to show off the much-hyped gothic look this season.
Leather and a classic plaid look perfect when paired together. While the particular ensemble reads more elegant, the addition of a chunky boot would edge it up in all the right ways. Think about the gold rivets that will amp up the look.
We guess you don't need an explanation for this. A long '90s slip dress, chain choker, and combat boots are a sure-fire way to win at this trend. Perfect for women who want to stay in the borderline of feminine, chic yet mysteriously sexy.
Got an old moto jacket lying around in your closet somewhere? Then whip it out, pair it with some trousers and boots and you've got yourself an easy grunge-approved fall look. Effortless and perfect for beating the cold too.
Do you wish to invest in wholesale workout clothes and flannel clothes or your store? All you need to do is checkout the bulk collection of a popular supplier. Look for the MOQ of the products and communicate the wholesale clothing needs by stating a mail to the help team.