The Ultimate Fashion Guide to be Inspired by the Best Dressed Tots
If you thought that it was only the parents who made glamorous appearances every now and then, you should totally check out the kids! Following the footsteps of their parents, these starlets are just stunning the buffs in the fashion circuits all around the world. If you are looking for ideas to dress up your little tots then here is a list of the best dressed kids in Hollywood who will provide you with the best motivation.
Bend it like Junior Beckhams
David Beckham and Victoria Beckham for years have set trend for all of us to follow. But their children are not very far off. Cruz Beckham totally rocked the mash up of colours. White graphic tee, mustard pants, red hoodie and grey shoes might seem daring, but this kid pulled it off with finesse that would put fashion biggies to shame. You can definitely dress up your toddler in this combination for any casual occasion as kids clothing manufacturer usa have a plethora of products made available only for you.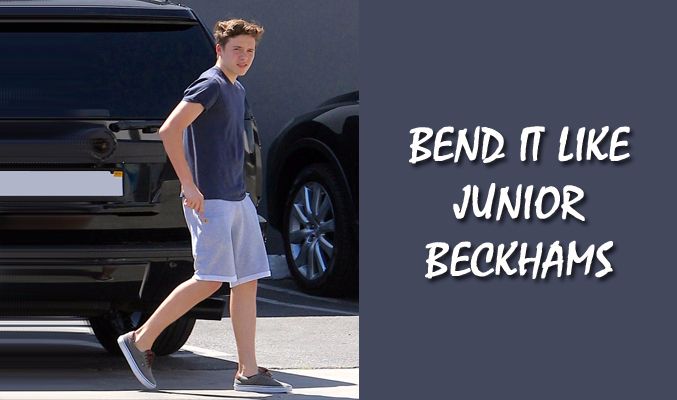 The other Beckham, Romeo, lived up to his name. The boy model charmed us with a smart tailored suit and a bold overcoat. To whoever said, "Like father, like son."
Pretty Pitt girls
Brad Pitt and Angelina Jolie might have called it quits, but their little band of children is always on top of their game when they have to make public appearances. Sisters Zahara and Shiloh bring uniqueness to the platter with their stylish choice. While, Shiloh took inspiration from her big brothers and sported a tom boy look, Zahara looked limelight ready with her peach midi dress and red flip-flops. The red flower sat perfectly on her cornrows giving her the perfect edge.
Whip it like the Smith
Willow Smith whipped her hair back and forth and made all of us shamelessly join in. and when it comes to styling herself, this little wonder proves that it can be as quirky as her talent. Her striped jumpsuit worn with a cropped black leather jacket and hat just made her stand out. Her satirical choice of a choker proved her unpredictability just like her parents Will Smith and Jada Pinkett Smith.
Bloom-ed
If you have the looks of father Orlando Bloom and fashion sensitivity of mother Miranda Kerr, you can't be far away from the spotlight. Flynn Bloom looked adorable in an orange tee and cuffed pants. The printed blue sweater and the grey boots topped with a hat made this little one shine while taking a stroll on the street. His chubby cheeks and naughty glare just melt our hearts. Kids clothes manufacturers have assembled the similar garments inspired by this little hunk that will help your child look as fashionable as ever.
Fix it with little Martin
Chris Martin has charmed us all with his mesmerising voice. But his son Moses stole our hearts. The little rock star climbed on his father's shoulders for a piggy back ride. White t-shirt and a pair of black jeans looked oh-so-good on him. To complete his classy appearance, he wore a pair of chequered loafers and a baseball cap. So don't be surprised if you see this little guy make a big debut any time soon.
Taking inspiration from these little wonders, wholesale kids clothing manufacturer have assembled the best garments for the fashion conscious kids of this generation. For all those retailers who are looking to revamp their collection, can make bulk purchase online.