Three Problems You will Face for Choosing the Wrong Rugby Uniforms!
When you are engaged in sports activities like Rugby or soccer, you are bound to feel drained and all sweaty after few minutes of incessant running. Though you cannot completely eradicate the exhaustion part, you can lessen it by choosing the right kind of uniform. However, if you are planning for a low budget purchase of Rugby jerseys, then make sure that they fulfill certain criterion.
If you are skeptical about the fact that a wrong Rugby jersey can completely jeopardize your performance, it is time you should know how it can affect your efficiency. Here are some hazards that can really ruin your match. Scroll down and check them out.
Chafing:
When your body is in full motion, the skin around the joint areas tends to get rubbed. Constant friction while running can cause reddened skin and sometimes it is very painful as well. So, you can certainly imagine what problem can occur if your Rugby league clothing does not prevent chafing? You will end up having sores around your armpits or leg joints. This will give you a lot of discomfort while playing and you will not be able to carry on for a long time. Therefore, before you finally lay your hands upon your own rugby jersey, make sure it is chafe-free.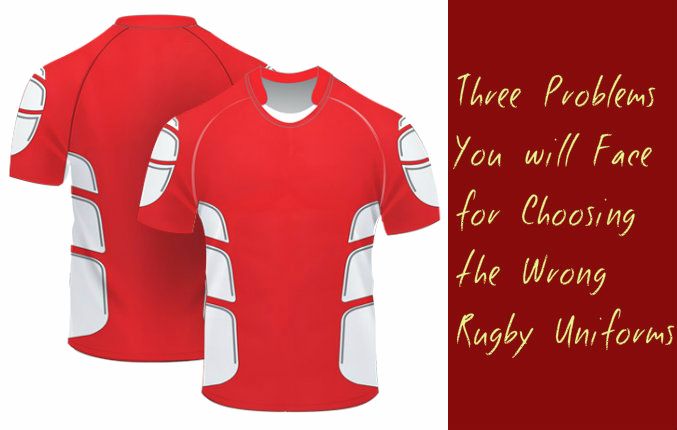 Low moisture wicking capacity:
Isn't it true that when you sweat, the tiredness is doubled? So, if your Rugby jersey lacks the capacity of absorbing the excess moisture, you must look for a change. Compromising on the quality of your jersey may prevent you from delivering the best performance. Hence, choose the rugby uniforms that will keep you dry. Nowadays, multiple companies are offering dri-fit sports apparels and the best part is that you can buy them online. Just check out the web stores of reputed manufacturers and pick your dri-fit Rugby jersey.
Less Durability and Flexibility:
Durability and flexibility are the two qualities that all sports garments should possess. Rugby requires a player to move both his hands and legs and if you choose the wrong uniform, you might also face injuries due the inflexibility of your outfit. For this reason, you should select those uniforms that are flexible enough to support your muscles. Stick to reputed brands when it comes to sports apparels as they guarantee the durability of their products. You can also search for the right jersey at the online stores of the top-notch Rugby uniforms wholesalers.
So, if you can identify with any of the above mentioned issues, then it is time to go for a shopping and select the perfect Rugby league clothing for your entire team. Visit the e-stores of the reliable sports apparel manufacturers and take your pick.