Time to Rock the Off-Shoulder Wholesale Sexy Tops Like the Celebs
Creating subtle sex appeal sometimes in your style quotients is like taking a much needed break from the everyday fashion statements. Talking about this, we cannot just dodge off the fact that the off shoulder tops are making it to the fashion scene once again, creating a stir among the style conscious women. The leading wholesale clothing Australia manufacturing hubs have been crafting these sleek and preppy outfits for the women, who love to indulge into some fun skin show for parties and other casual occasions. This look is a trend to try and the celebs too are completely into action, carrying silhouettes in the off shoulder tops for different on screen and off screen looks.
The leading retail chains online too have been stashing their stocks with the off shoulder designed tops, be it engraved with lace worn, embroidered, or in nude and pastel shades. They are classy and funky at the same time, and this fusion helps women to channelize a number of contrasting demeanors.
Here are some style ideas sported by the celebs in these off shoulder tops.
Kendal Jenner
At an event by Victoria's Secret, Kendall Jenner rocked a simple single colored black tight- fitted full sleeve off-shoulder topwith a black studded mini skirt. She kept the ensemble in black, and also added the black pump shoe to finish the attire with refined finesse.
Leandra Medine
This style blogger being an expert rocked the off shoulder fashion with perfection and quirk. She teamed the white and navy blue off shoulder striped top in loose fit with the olive green loose short, and added the sneakers to bring in an athletic inspired look. The reputed clothing distributors introduce the loose fitted flowy off shoulder tops too for skinny girls to look voluminous.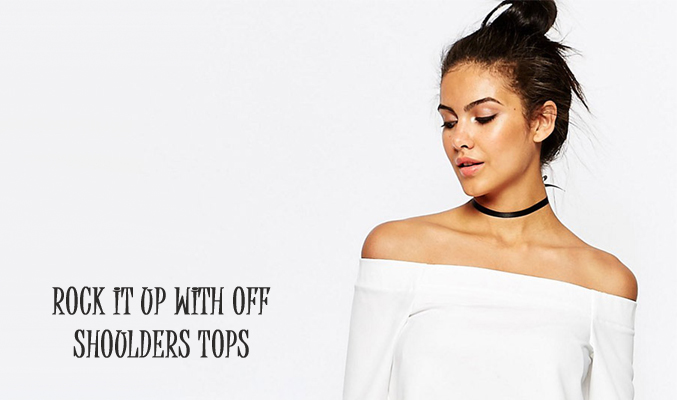 Eva Chen
This journalist cum editor in chief for a leading publication also managed to look very adorable in the dare-bare shoulder look. Her navy blue off shoulder top was teamed with the cobalt colored culottes adding to the bright and very colorful contrast.
Aimee Song
This style blogger also wore the white smart looking peplum off shoulder top, and wore this with distressed skinny denim. The blue and white magical and classic combo reflected a polished and preppy look for any casual outings.
Katy Perry
The floral skirt in black and white was worn with white crop with off shoulder design. Her slide sandal, and hat accessorized her look with perfection,and added a fresh touch to her persona.
Tori Praver
Her black beaded maxi skirt was topped with elegance when clubbed with the Boho style lace worked bare shoulder top. This is a very poised outfit combination, and the black and white separates give way to a very classy and graceful attire option.
Zoe Kravitz
Her off shoulder top with black and white prints was worn with the similar colored and printed shorts giving way to a very put together ensemble, and reflected the most chic and stylish demeanor.
Lily Aldridge
For the evening occasion, you can take cue for this beauty who wore the white feminine, and ultra-poisedbare shoulder blouses with a long flowing skirt in white. This was worn with a golden collar neckpiece adding class to her look.
Thu, with the leading clothing distributors UK bringing in the off shoulder style definition, you should own them like a boss, taking cues from celebs and models.