What to Look for in American Football Clothing?
American football is one of the most popular sports in the United States of America and it originates from association football and rugby football. It was first played in 1869 between Rutgers and Princeton and by 1876 the rules changed – from soccer-style rules to rugby-style rules. Hence, it can be understood that American football is much more ruthless than other forms of soccer and the right kind of clothing and protective equipment is important to prevent major injuries when out on the field.
Being a high-contact, physically demanding sport, American football requires the players to wear the right uniform which includes a jersey, football pants, gloves, socks, helmets, face mask, hip and tail pads, shoulder pads and mouthpiece.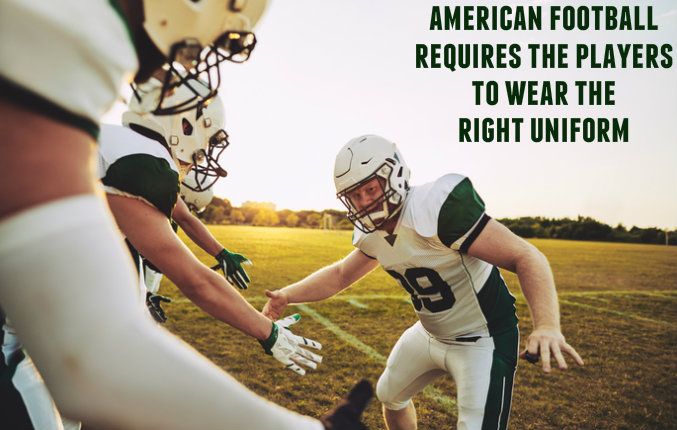 If you are the owner of a youth team and wish to dress your players up appropriately so that they can stand a chance against the opposition and maybe play their way to the professionals clubs, then read on to know what you should look for in wholesale American football clothing and accessories.
The jersey should be made of technologically advanced, quick dry fabric so that moisture is easily wicked off. The fabric should have anti-bacterial properties. It is important that the players are comfortable throughout the duration of the game.
The football pants should also be made of hi-tech fabrics and fall below the knee. Compression garments can also be opted since it prevents muscle injury and helps in fast recovery post any kind of physical activity.
The jersey and pants should not fit very tightly but leave just enough space to slide in the protective equipment such as shoulder pads, hip and tail pads. It is important that the equipment stays in it proper place because as mentioned before, the sport is a contact sport and can cause life-threatening injuries.
Look for an American football clothing manufacturer who offers custom clothing options so that you can get unique uniforms that would help to differentiate your team from the rest and even help you to bring some sartorial swagger on the field that rarely sees any!
Whether you want to stock up on American football jerseys for the fans and sports enthusiasts or wish to dress up your team in great uniforms that are functional and performance-oriented, get in touch with a manufacturer and place your order in bulk to get amazing wholesale packages at incredibly low prices.