What You Can Expect from a Top-notch Rugby League Jersey Manufacturer
Many small clothing businesses mistake American football for rugby league. And in this confusion, they buy the wrong bulk. Although both sports differ mildly, with more or less similar rules, rugby leagues jerseys USA are different from football jersey USA.
Quality of rugby league jerseys
Rugby league is more rigorous than the American football with fewer breaks in between. This necessitates different kind of wears.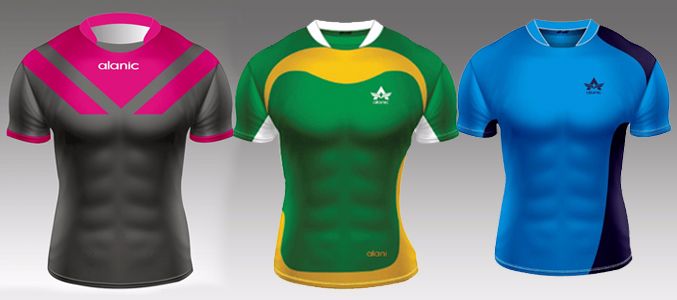 Fabrics– Rugby shirt manufacturers use a blend of cotton and polyester in their products. While cotton makes the shirt soft and comfortable, polyester has its own fits. Polyester makes the wear more slippery that facilitates against pull and tackle. They are comparatively tighter and stick to the body. Also, they don't soak water and mud. This keeps the jersey very light all throughout the game.
Two varieties
Rugby league shirts USA broadly comes in two varieties- one is designed and tailored to meet the needs of professionals, while other is for the fans. Their look widely differ-
For the players– Jerseys for the professionals are much simpler, in terms of designs and colors- usually two color combo. Plus, about fabrics, the proportion of polyester is comparatively more than cotton. This makes the shirt more tight and light.
For the fans– Rugby league shirts USA made for the fans are simply very stylish. They are basically the full sleeve t-shirts and are made with the higher proportion of cotton. They come in horizontal check patterns in two color combination. This wear is just perfect for summer and is often a first choice for all the pastime time players and amateurs.
Differing with the American football
One evident difference between the wears of rugby league and American football is that the later one comes with thick padding. This cushions the players' elbows and knees and prevents them from any injury. Also, the professional gear is much more colorful, with different designs. Contrarily, the wear of rugby league comes without any padding. They are much simpler and generally consist of jerseys and shorts. Even, many times, helmets are not used.
So if you are planning to expand your sports inventory, get in touch with top rugby shirts manufacturers today. And next time when your customers approach you for rugby league jerseys USA, offer them exactly that and not the wear of American football.