4 Menswear Pieces That Have Humble Starts in the Military
When wars are taken into consideration, the first thing that comes to our mind is annihilation and destruction. The 20th-century wars were completely undesirable but maybe without them, men would still be wearing frocks and sailor jackets. Crew necks, chinos, bomber jackets and many more came into existence because someone decided to make give the military men a deserved fashion upgrade. It was really great of them to do such a noble thing.
Today, even after years have passed, we are still hung-over with these pieces, incorporating them into our daily wear. As mentioned there are many such pieces which have humble starts in the military, however, a few noticeable ones have been summarized here. Keep reading to find out more.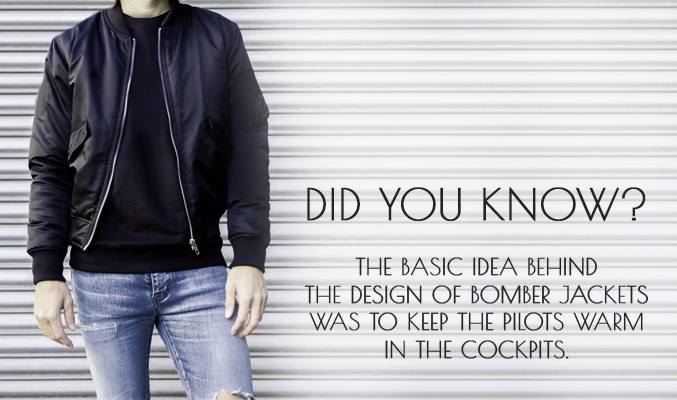 Bomber jacket
A military utility wear, a bomber jacket can be everything you want it to be. The basic idea behind the design of bomber jackets was to keep the pilots warm in the cockpits. Constructed mainly using heavy-duty leather jackets, the bombers were earlier lined with sheepskin for an extra bit of insulation. Today, with the entry of bomber jackets in the mainstream clothing circuit, has turned the tables and it is mostly leather and nylon. A key piece for the last few seasons, bombers are considered to be a flawless casual pick. For a more conventional interpretation, you can look for versions which come with leather trims and velvet. Wholesale clothing suppliers USA based have these featured in their already massive inventory.
White t-shirt
Can you imagine life without a white t-shirt? The answer will be no. because life without the most iconic men's wear seems improbable. A white t-shirt is ubiquitous. A white t-shirt is perennial. And a white t-shirt was first introduced in the US Navy during the 1910s. It was later then used by the army, but a classic short-sleeves white cotton crew-neck was essential for them. However, even after the war ended, the popularity of these pieces didn't cease to fade. They kept continuing their journey in the fashion world. From James Dean to Marlon Brando, David Beckham to Ryan Gosling, everyone loves a classic white t-shirt. So do us!
Chinos
A pair of trousers that sits bang in the middle of smart and casual, chinos is hard to miss. Before becoming a college campus staple or a Friday meeting essential, chinos were constructed greatly for battles. They were built for the British troops stationed in India and were highly inspired by the khaki. The basic construction was done using twill cotton and featured a sandy, light brown shade to provide a comfortable wear during the war. Also, the low-profile was meant to camouflage the dusty terrain. Nowadays, chinos are still the hardy wear but with a soft touch to the appeal which complements the Ivy League style. Stick to the basic shades in order to look the part.
Combat trousers
It was during the rough battles of the Second World War that cargo pants came into focus. The numerous patch pockets on the trousers were helpful for the British soldiers to hold field dressings. A slow-burning trend, combat trousers now come in tailored versions to complement the street style of modern world. The slimmed down version looks cool, ideal for casual gatherings on a hot summer day. But stick to the basic shades in order to give these an authentic appeal. Popular wholesale clothing manufacturers have combat trousers displayed in their inventory that can be purchased by the retailers in bulk.
Surprised? Astonished? Whatever it is, now that you know where these pieces come from, make sure you actually wear these with some respect.
If you are a retailer looking to make a bulk purchase of the above-mentioned clothes, then register with leading manufacturers. Massive discounts are available for bulk buyers.