4 Popular Types of Flannel Clothes for Women
Flannel is liked by women due to its soft feel, excellent warmth and breathability. This is a light and soft woven fabric which is generally constructed from wool and is also blended with synthetic or cotton fibers in some cases. This fabric is used for constructing outfits and even bed sheets. Since the 1600s, it has been in use and its usage has been more widespread in the last 3 decades. If you have opened up an apparel store, it is a good idea to order the following 4 types of flannel clothes from your supplier to offer to your female customers.
Flannel shirts
This type of flannel clothing can be worn while carrying out rough jobs like cutting and collecting firewood. Such types of shirts come with the perfect blend of roughness and tightness, minus the discomfort. These are able to hide dirt and provide the body with protection from the cold. These shirts allow great comfort while camping and hiking, and are also comfortable to sleep in. When worn with a skirt and high heels, these also make great casual wear for any season. These are the strongest and one of the simplest types of clothes that can be worn in almost any situation.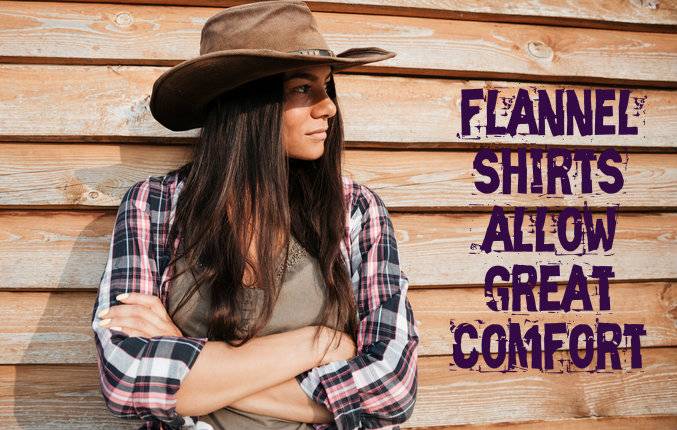 Flannel pajamas
Pajamas made of flannel happen to be light in weight, and come with a waistband consisting of a drawstring and can loosely or comfortably fit on the waist region. These days, such pajamas come in a 2-piece form comprising of a shirt and pants, with the shorts coming in short or long forms. Flannel pajamas may come with pockets at the sides and zipper on the front.
Flannel nightgowns
These are light in weight and loose-fitting, which makes them comfortable as nightwear. Flannel is comfortable and soft in type, and lets the skin breathe easily without breaking into a sweat. Unlike fleece and other warm fabrics, flannel does not get caught on bedding. Young girls and women feel very comfortable in nightgowns made of flannel, and you can be assured of profiting with this type of wholesale flannel clothing.
Flannel bottoms
These are liked by women who spend a lot of time outdoors and want to keep warm in chilly weather conditions. Many of the flannel clothing manufacturer companies are creating flannel bottoms in varied designs, colors and styles to cater to the varied requirements of consumers who demand a perfect blend of style and substance.