Customizing Sublimation Hoodies Specifically to Meet Your Male Customer Preferences
Jackets and hoodies are one of the most stylish clothing items; but what makes them even more stylish is the personalization option that top and trusted sublimation clothing manufacturers offer. Meaning, the small businesses have the liberty to customize nearly everything of their sublimation jackets wholesale in accordance to theirs and their customers' demands.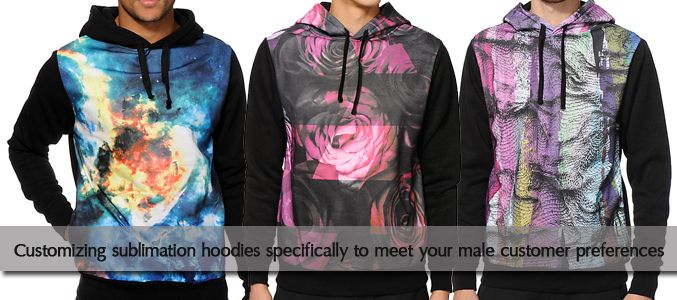 Customization helps in targeting specific customer base more easily and conveniently. This, subsequently, speeds up the sale by a considerable margin.
Predominance of men customers
Without being sexist, it is no secret that men wear hoodies more than women. So, small businesses should customize their bulk, most of the time, keeping in perspective the needs, demands and likings of men. Like for instance, light color hoodies or jackets won't do well among male customers; they prefer darker shades. Also, like light colors, different designs or unnecessary patterns is not a popular choice for men's hoodies.
For men customers, there are three safe zones in customization department of hoodies and sublimation jackets wholesale that are very safe-
Sports;
Movies;
Video games;
Sports
Imprints or graphic relating to popular sports on jackets and hoodies are a very safe and popular choice. Men love to show their rooting to any sports or team; and sports like basketball, football and soccer have their prevalence and craze around the seasons. The name of particular teams or players would do well; as well, the graphics of, say balls, are another good choice.
Movies
Movies related prints on jackets are yet another great choice. Superheroes and action movies are adored by men around the world; like X-men and Fast and Furious series, Superman, Batman, Star Wars, and even Harry Potter has gone great with the sublimation t-shirts. So there are no reasons to believe that they won't do well on sublimation hoodies and jackets.
Games
Combat action-packed video games that are visually rich are the favorites of men. Call of Duty series are the love of all, while these days the new 'Chivalry- Medieval Warfare' are on everyone's mind. So graphics of popular video games, say its characters or any accessories, would sell perfectly on hoodies and wholesale.
The number of imprinting possibilities in the above mentioned three 'safe zones' in quite uncountable. All you need to do is just connect with the right sublimated clothing wholesaler who offer detail customization options in the first place.