Fashion Business is in Full Rage: Choose to Become a Clothing Distributor
Fashion clothing is becoming very popular these days not only amongst celebrities but also amongst common people. Everyone wants to flaunt their designer wear at special occasions. Because of this huge demand across people of all age groups, it has become a very profitable option to enter into the business of fashion clothing. However, huge demand is not the only reason which is driving entrepreneurs to enter into the said business. Other reasons like preference in keeping up with the latest trends in fashion, helping people choose fashion clothes, etc are also adding to the already high levels of competition prevailing in the industry.
Becoming one of the wholesale clothing distributors can be advantageous for you if you have less investment to open a retail store. You can still definitely be in the business by buying fashion clothing in bulk from the manufacturers and distribute the same in small lots to the retailers. It is more of business to business sales. You can also sell the clothing directly to the customers.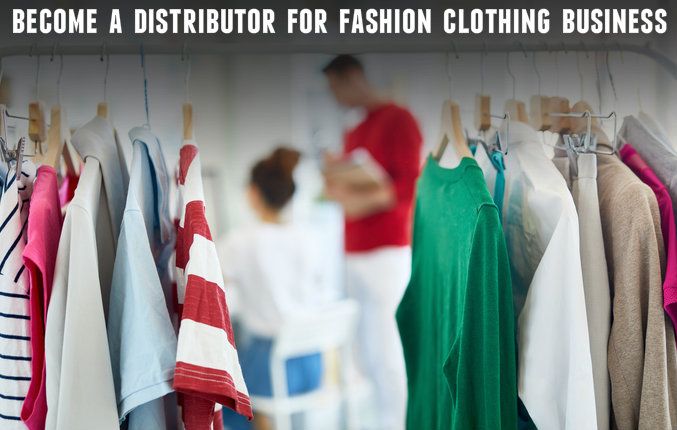 How to become a distributor for fashion clothing business?
Choose your role
The first step in becoming a fashion clothing distributor is choosing a role for yourself depending upon various factors. You can either become a wholesale fashion clothing distributor or retail fashion clothing distributor or both at the same time. Various factors shall be compared before taking this decision. Whether you want to deal in business to business or business to customer's sale will also affect your decision.
Choose a supplier
If you have chosen to become a wholesale distributor of fashion clothing, your suppliers can be fashion designers or wholesale clothing manufacturers. You can approach them and discuss your proposal with them. You can choose either one or a number of suppliers. The choice of the supplier will depend upon price quoted, quality of material, uniqueness in designs, order delivery time required, credit limit allowed, goodwill in the market, customer preferences, etc.
Understand the cost involved and arrange funds
Like any other business, funds are required in the business of fashion clothing distribution as well. Cost will be incurred in purchasing the material from the supplier, transportation, storage, packaging, getting orders, promotion, delivery, etc. You must estimate the fund requirements based on the credit period allowed by the suppliers and cost incurred on the above. These funds shall be arranged from a suitable source beforehand to avoid any glitches in the smooth running of the business.