Johnny Depp and His Sartorially Cool Ensembles in Mens Flannel Shirts
Known for his quirky, weirdly wonderful and surprising looks, Johnny Depp manages to dress himself better than the assistance of a costume designer of the film fraternity. From the swashbuckling adventurous pirate Captain Jack Sparrow, to the clean shaved leather jacket handsome guy in Cry Baby, Depp has been known for flaunting the most extreme looks, one completely different from the other.
When it comes to dressing up for himself off screen too, he has never disappointed his fans. This is where comes his style quotients in the plaid flannel shirts, flaunting both metrosexual and lumbersexual grunge looks. With the leading mens flannel shirt manufacturers USA crafting an array of plaid flannel shirts for the fashion forward. You can also get the magnificently done looks done by Depp, be it completely sporty or fiercely classy.
The flannel shirts have resurged in the global fashion scene once again, owing to the craze they reflect, and for being highly appreciated by the celebs, fashion designers and experts. If there is one of the loved clothing pieces which helps to add a spin to every wardrobe, it has to be the mens designer flannel shirts, quintessentially vintage and sophisticated.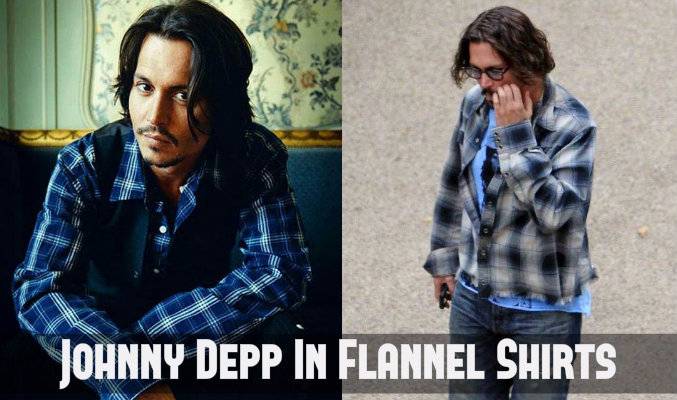 So, are you planning to get some inspiration from Johnny Depp to do these utterly poised and funky flannel plaid shirts? Here are some of the bets looks which he donned in his career.
Utterly casual and laid back
Could you imagine a star doing a very casual and simple look for a formal gathering? Downright daring when it comes to fashion, Johnny Depp did such an ensemble for a press conference in Japan, looking smart and sexy in a beige jacket, striped polo tee underneath, the Fedora hat with blue denim, and of course the brown and cream flannel plaid shirt tied around the waist.
Preppy or classy?
Being the style epitome for confidently fusing different types of looks, Johnny Depp was captured by the paparazzi with Indian Bollywood beauty Mallika Sherawat looking dapper preppy and classy in a red, black and white combined plaid flannel shirt, teamed with a dark grey structured blazer with a pocket square and his favourite fedora hat in light brownish grey. A perfect look for any date night!
The hot and happening hipster
If you are looking for a grunge and hispter look in the plaid flannel shirts, then Johnny Depp is there to come to your rescue with such a demeanor. In a green tee, he layered his cream and black combined plaid flannel oversized shirt, and kept the buttons casually open. The neck scarf in black with a lot of neckpieces stashed up together with faded dark grey jeans added to the much required funk of this look.
Fiercely graceful
Who said the flannel shirts are only for the casual outings and for running errands? Johnny Depp proved this notion wrong with a blue and white flannel shirt worn below a navy blue waist coat with black striped suit pant for the most graceful and classy silhouette. This can be your look for the formal events and social functions!
Thus, with the renowned mens flannel shirts wholesale manufacturing hubs recreating the classic flannel shirts with modish twists and turns, you must grab them from the retail stores and embrace them to flaunt your best features in the most fashionable way.
How Johnny Depp Styles Flannel Shirts? – Summing Up!
Johnny Depp is known for his unique and eclectic fashion sense, and his style with flannel shirts is no exception. Here are a few ways that he styles flannel shirts:
Layering: Depp often wears flannel shirts layered over t-shirts or tank tops, paired with distressed jeans and boots. He may also add a leather jacket or vest to complete the look.
Tying around the waist: Depp has been known to tie a flannel shirt around his waist, paired with jeans and a t-shirt. This adds a casual and relaxed vibe to his outfit.
Dressing up: Depp has also been seen wearing flannel shirts in more formal settings, such as red carpet events. He pairs them with tailored pants and dress shoes, adding a touch of edginess to his formal look.
Accessorizing: Depp often accessorizes his flannel shirts with scarves, hats, and jewellery, adding a unique touch to his outfit.
Johnny Depp's style with flannel shirts is a reflection of his individuality and creativity. He shows that flannel shirts can be versatile and can be styled in many ways, from casual to formal settings.