Sizzling Flannel Shirts Every Women Can Add to Their Closets: Style Brigade
Buffalo checks or tartan? Plain or embellished? If the female celebs can perfectly and flawlessly embrace the classic trend of wholesale flannel shirts, why should you leave behind? If you love to deck up in casual ensembles, then it is time to ditch the normal and boring tees and skirts and get some affection towards the vintage flannel fabric and check pattern. Few fashion statements never go out of the global fashion scene and to get them going, every stylish woman must brew up new ideas to wear them and explore the latest twists and mod turns which they have been witnessing.
Fashion has opened up gates for endless possibilities and opportunities, and owing to this, none can deny that fact that flannel too has outgrown enduring the onslaughts of time and proved its worth on the lives of the fashion conscious crowd. This is the reason why its craze is still constant and the leading flannel shirts wholesale companies are elevating the retail stores with their new collections everyday.
We will get you covered with the most alluring flannel shirts which you must consider on possessing:
1. When flannel and lace gets a fusion
Get something in the blend of two fabrics: flannel and lace to rev up your look for a party or night around the town scenes. With a flannel plaid shirt with plaid patterns on the front and something in translucent lace at the back will make you sizzle anywhere. Wear this with a leather glossy or shimmering silky maxi skirts to get all eyes hooked on you!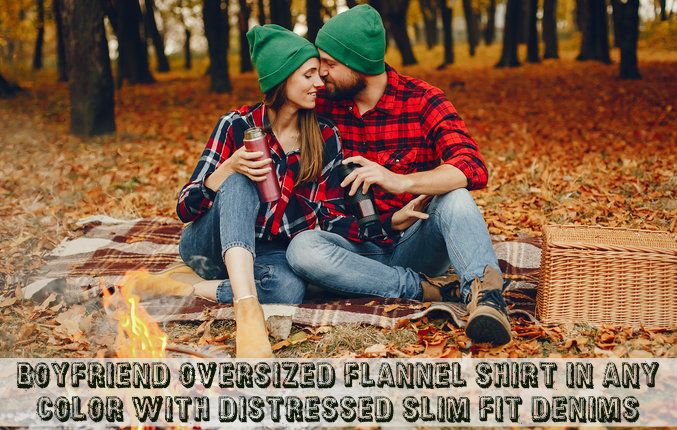 2. Do tomboyish with a boyfriend flannel shirt
Team up a boyfriend oversized flannel shirt in any color with distressed slim fit denims for a poised casual silhouette. The careless demeanor of the shirt can also be used as a layering over any tank tee or just a camisole. Also, in the beach or by the pool, you can wear it as a cover up over your bikini for a sensuous appeal!
3. A cozy and warm wool flannel shirt
For the winter chills, ditch the sweaters and get something comfy and warm in a dark colored wool plaid flannel shirt teamed with a glossy leather legging for any trip or adventurous tour. This will be a perfect blend of fashion and comfort.
4. A soothing colored flannel shirt
It is time to come out of the monotonous dark shades like reds, and blacks for flannel plaid shirts and do something in soothing tones of white and pink or blue. Team up such a shirt with a pencil skirt in single color with heels for your office ensemble with confidence and uniqueness.
5. An embroidered sleeveless flannel shirt
For the day outs with friends over coffee or movie, get yourself decked up in a sleeveless embroidered flannel shirt, intricately done. This can be teamed with denims or skirts for a feminine stance.
6. A fringed plaid flannel shirt
Add some quirk and fun to your beach or pool parties with a fringed flannel plaid shirt crafted by a reputed flannel clothing manufacturer and pair this up with a torn and tattered denim shorts to reflect a flirtatious and cool get-up!
7. An embellished flannel shirt
For the Saturday night glamorous party scenes, get going with a black and red embellished flannel shirt teamed with a mini skirt, with a knot at the bottom for a gorgeous appeal!