The Trend of Printed Sublimated Clothing: Reasons to Embrace It This Season
No matter how religiously you follow the style trends circulating in the global fashion scene; there are few fashion statements that are absolute necessity. Similarly, recently the craze of wearing prints has taken the forefront, and it is said that printed clothes must be there in your closet. If you know how to put together a printed outfit, and confidently pull that off, then you will be the diva at any outing. The sublimation printing technology has brought in the realistic printed clothes, using more colors and in a wide array of motifs and patterns.
Spring is here, and you must start something very colorful and bright to present yourself. Be it in the floral sundress, the polka dotted palazzo or the abstract printed off shoulder ruffled top, there are ample opportunities to get hooked to, and you can embrace them for the most outstanding silhouettes. Here are some of the reasons to rock the printed fashion trends this season. 
Add color to the boring outfit
If you are wearing the plain white or black dress or top, and want to add something colorful, the sublimated printed vest or jacket or kimono will come to your rescue. Add this to get a wonderfully put-together printed look, and reflect the most hip and happening silhouette.
Much required visual interest
The colorful patters and printed motifs draw attention to your dress by creating the much required visual interest. The simple top can be elevated with the printed colourful pant, and this will completely brighten up the whole silhouette.
Successfully creates longer lines
If you are on the shorter side, you can easily look leaner or get the elongated demeanour through the bright striped dresses. Stripes in different hues create a longer image of yours.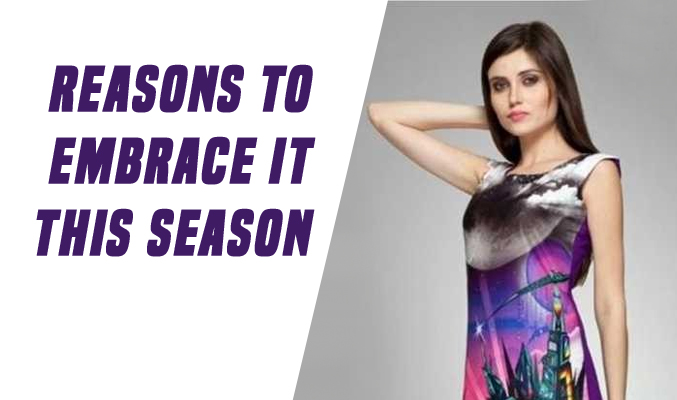 Get them in any color of your choice
The printed clothes that are produced through sublimation printing process are found in an array of colors, and you can get anything that you choose to wear.
You get patterns for every occasion
Dressing for the occasion is a great thing to stick to, and you can pull off the perfect look for each and every occasion effortlessly. Hence through the sublimation t shirts wholesale pieces or the dresses, you can get hold of anything that would suit your persona. Florals for the beach outings and abstract motifs for the music festivals!
The big and bold for spring
The season of spring is all about adding colors and a vibrant quotient to your persona, and for this you must wear the sublimated clothes. They come in big and bold, or soft and sweet looks form the colourful florals to the black and white stripes.
Thus, make sure to add newly printed clothes to your persona, crafted by the leading sublimation clothing manufacturers, and get any look of your choice.