Trends in Prints and Patterns Introduced by Sublimation Clothing Manufacturers
With technological advancement, fashion industry is taking every move towards something new and fresh. Sublimation printing is a very unique and fresh addition to provide a very enriching experience while dressing up today. The innovative way to transfer photo-quality images to garments has taken the glamour world into new horizons. Irrespective of men or women, this is definitely creating a huge fashion statement, with a zest and peppy appeal. So, the time has come to ditch your plain outfits and slip into exotic prints brought in by sublimation clothing manufacturers.
There are a few prints which are in vogue today in woman's fashion due to sublimation printing. Let's throw light on them:
Floral
If you are a girl, then nothing is prettier than floral patterns over your outfit. Get a peppy and soothing look with flowery patterns sublimated colorfully to render zest and spunk to your get up. In case of tops, slip into single colored plant or palazzo, and a crop top with a floral skirt. When it comes to a dress, just ensure the right footwear and get yourself going!
Animal
Skin textures and footprints of animals are given a new approach by printing them on apparels and hence, sporting a bold look is quite easy today, with sublimated animal prints. From tops to pants and even jumpsuits, leopard, tiger, zebra patterns are quite in fashion.  Keeping the jewelry minimal, get the desired wildness in your appearance!
Abstract
Boldness in outfit now can be brought with colorful abstract prints. Graphics and geometric patterns are a part of abstract print which can be very easily brought in by sublimation dye technique. These motifs have no definite shapes and are quite modern, matched with contrasting color schemes. Sublimation clothing wholesale is witnessing a whole new range of abstract blocks and prints on dresses.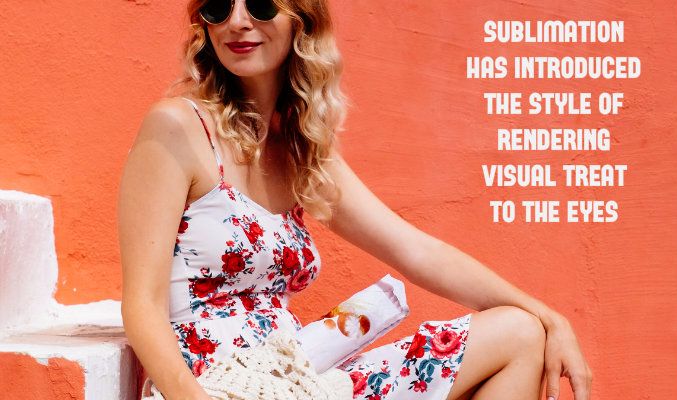 Alphabetical and numerical
If you desire to get a very funky yet cute look, go for outfits with vibrant numerical or alphabetical prints in monochromes or even flamboyant shades. Sublimation has introduced the style of rendering visual treat to the eyes with swanky numbers and alphabets imprinted on the outfits, like the newspaper print or images of mathematical calculations.
Tribal patterns
Get the uber-cool bohemian chic look with tribal prints inscribed on your outfit. This indigenous creativity on the part of the designers have been backed well by sublimation printing technology. With a complex and medley of color pallets used, these exotic designs get all eyes glanced at you!
Photo prints
This is another very unique style of getting the photos of your favorite singer, actor, sportsperson or any other personality printed on your tee or top to get a supremely fashionable appeal. They look quite artistic and if sublimated in details can definitely turn you into a fashionista overnight!
Recreation of urban-life
Sublimation clothing has also given way to striking scenes of the real-raw urban life to get imprinted on your outfits. From the transportation modes, to slices of lives and even sceneries, everything gets a place on your garments. Why not look eccentric for once and be the centre of attraction?
Thus to cope with the new trends of fashion, retailers are banking on the top notch sublimation clothing manufacturers to enhance their collections and woo the customers.