A Private Label Clothing Brand is no Longer a Distant Dream
Private label was previously an area of interest that was largely reserved for big retailers with infinite budgets. But, with the recent shift of the retail landscape, private label makes more sense to smaller retailers and store owners. One of the reasons for this huge shift could be attributed to the dissipation of the stigma that was previously attached with 'private label' products. Designing and manufacturing products that are customized according to the unique clientele of a clothing boutique or store is much easier now than ever due to the ready availability of top designers and manufacturers.
Your Own Brand, More Freedom to You
The unrivalled amount of creative control offered by private label apparel manufacturers is extremely enticing for entrepreneurs and retail store owners. If you are running a fashion or fitness clothing store and after extensive market research cannot find the perfect dress or compression t-shirt for your shop, then simply make it and brand it with your own label. There is no reason why you shouldn't be selling your own brand of apparel!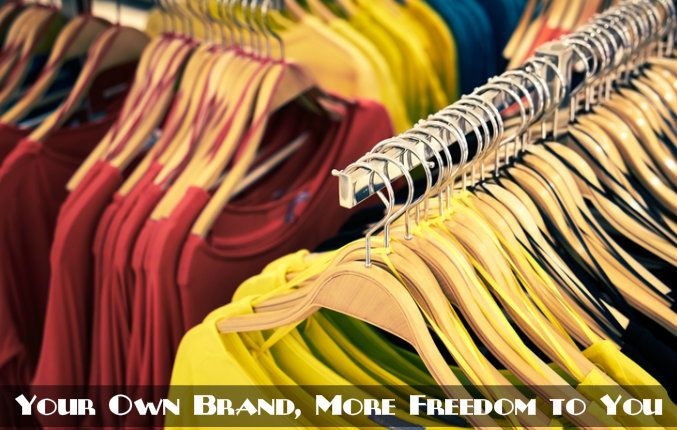 A Tool to Enhance Your Brand Name
There are myriad reasons why you would want to launch your own private label clothing brand. Beyond the inherent cool factor, the profit margin is actually much higher on such products. It also acts as a tool to help you extend your brand and marketing story. If you are already running a successful boutique or clothing store, a private label brand will only improve and hugely benefit from your shop's already good name in the market. This goes to prove that the whole idea may not be as risky as you might have previously thought but just ensure that you choose the right private label clothing manufacturer to execute the line.
Partner Up with Custom Manufacturers to Save Expenses
There are two options for you to consider when you are on the process of making your own clothing line – manufacture the garments yourself or outsource the manufacturing work to an already established manufacturer. Of course, you could think about setting-up your own manufacturing unit, but keep in mind the capital investment that comes with it. If you are just starting out or just in the mood to test the waters, then it is not a smart move to get your finances all tied up. Instead, look for reputed private label clothing manufacturers USA that can seamlessly and with great expertise realize your custom dreams.
Private label may not be the ideal choice for all retail shops. But if you are an adventurous owner looking to capture the imagination of your target audience by launching a new line of clothing, then private label is the perfect way to exercise complete creative control.