Flattering Fitness Wear-Workout in Fashion!
People work out to tone down for health and fitness and the reward is to get into the fashionable attire that you are eyeing from a very long time. But you can also make your workouts look fabulous and cool if the fitness wear that you gear up for has the perfect fit and at the same time lends you comfort. When being fit is deemed as being the in-thing then why not include fashion and fitness together in workouts. Here are some best examples of workout apparels that are a craze with fitness freaks.
Alala for the busy bee
If you are really busy all day long and don't get the time to change after a heavy workout then Alala is the best option where you can look effortlessly cool from your cardio workout to the conference meet and the cocktail parties too. Laced with neoprene, mesh inlays and edgy prints it is an urban chic collection for sure. You can find this unique stuff with the online fitness clothing manufacturers who are always there to get you top-notch fashion at your doorstep.
Outdoor fitness apparels
If you are sweating it out, then this HPE (Human Performance Engineering) is the right pick for you. the designs support body movement by optimizing stretching and compression and at the same time it fights bacteria caused through excessive sweating and at the same time protecting the skin from the UV rays. The fabrics are breezy and breathable for a cool and calming workout.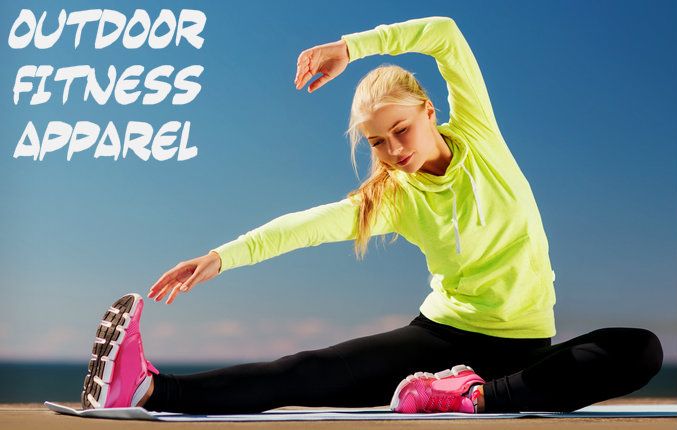 Fashionable and functional active wear
Fitness apparel manufacturers of reputed e-stores get you this popular workout gear that's creating a rage in the market. The apparel is made of high quality and has a wicking effect. It resists color fading and shape loss and the color-popping mesh detailing lends it the glamorous effect. It comes in the form of leggings and jumpsuits along with a classy lustrous sheen.
Mix and match-to look glam!
This design is the current in-thing that is being sported in every gym and fitness classes. It puts in bright yellow gray sports bra with contrasting paneling on the leggings and at the same time color blocking it in a unique way and the fitness clothing suppliers get them to you in flattering colors that will make it look all the more visually appealing.
If you want to make sure that the materials used for these apparels suit your climate and lifestyle then you can also avail customized services provided by wholesale fitness clothing manufacturers where you can put in your inputs. Order them in bulk and avail the exciting discounts. Make your sweaty workout, a happy one.