Want to Wear Flannel Shirt and Not Look Sloppy? Here are Few Ways!
Flannel shirts are most probably the most hip and happening fashion staples of all time, and be it the grunge fashion turnover or the popular lumbersexuality of the men today, the wholesale flannel clothing is definitely making quite a stir in the global fashion scene. But still, there are moments when we find wearing these quintessential flannel shirts very monotonous and boring, and hence end up sticking to the old and drab ways to slip into them. Breaking out of the stale old fashion statements, it is time to start with the new and exciting ways to roll up sleeves, or may be change the color palette and the accessories you are giving upon. Instead of looking or feeling sloppy, it is probably time to go for the out of the box ideas and cinch on the funkiest and trendy silhouettes in the popular flannel shirts.
Wondering which style ideas to adopt? Here are few to count upon!
Add balance to your statement tee
You don't necessarily have to team up the flannel shirt only with the single colored and plain tees, rather this time it is important to bring some change in your look by layering a statement tee flaunting a quote or a message with a flannel shirt of contrasting hue.
Tuck it up for refined finesse
A flannel shirts always doesn't mean you have to stick to the careless and casual ways of wearingit, un-tucked and slouchy over the jeans and chinos. You can definitely opt for a refined finesse and silhouette by tucking the flannel shirts into the short little skater skirts or may be the flowing maxi skirts or palazzos for a smart yet graceful ensemble options.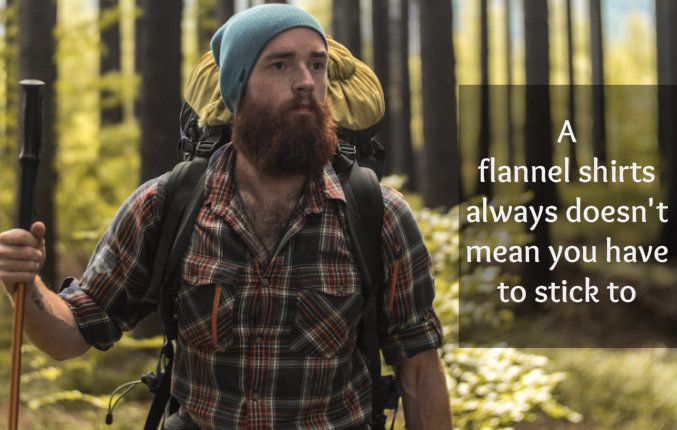 Work appropriate with sophistication
Get some formal vibe added to your dressing for the office ambience when it is cold outside and you definitely do not want to stick to the old ways of dressing up in a pant suit combo. Here, what you can do is team up a flannel shirt with a cape coat and pair this dress up with long rising boots for a cutting-edge get up.
Break apart the monochromes
Be it the white tank with white trouser, or may be the black jumpsuit or a blue maxi dress which you are wearing, you can totally add funk to the monochromatic look and break the boredom of the single color with a contrasting shaded plaid flannel shirt and get a very unique and novel appeal all together.
The right accessories matter
A flannel shirt is something which is quite simple and casual to look, and hence to add some class to it, one must stick to the right dose of accessories. While you are in a mood to wear a flannel shirt simple with jeans, make sure to add a fedora hat or may be a collar necklace to it, to bring out pep and also add some jazz to the otherwise plain looking ensemble.
Extra warmth and style
For the winter season, we all need to feel cozy and extra warm, and for this the flannel shirts act as the best options. Layer a vest over a flannel shirt, and team this with leather leggings to get a funky yet innovative demeanor.
Also, while you step into the retail store, you get to see a lot of options of flannel shirts made available by the leading flannel clothing manufacturer, and hence you get to play with a variation of styles, designs, cuts and colors!